Network Monitoring Made Easy
with WhatsUp® Gold
All-in-one monitoring of your entire infrastructure.
Network Availability and Performance Monitoring
WhatsUp Gold provides complete visibility into the status and performance of applications, network devices and servers in the cloud or on-premises.
Discover Your Network
WhatsUp Gold's powerful layer 2/3 discovery results in a detailed interactive map of your entire networked infrastructure. Monitor and map everything from the edge to the cloud including devices, wireless controllers, servers, virtual machines, applications, traffic flows and configurations across Windows, LAMP and Java environments.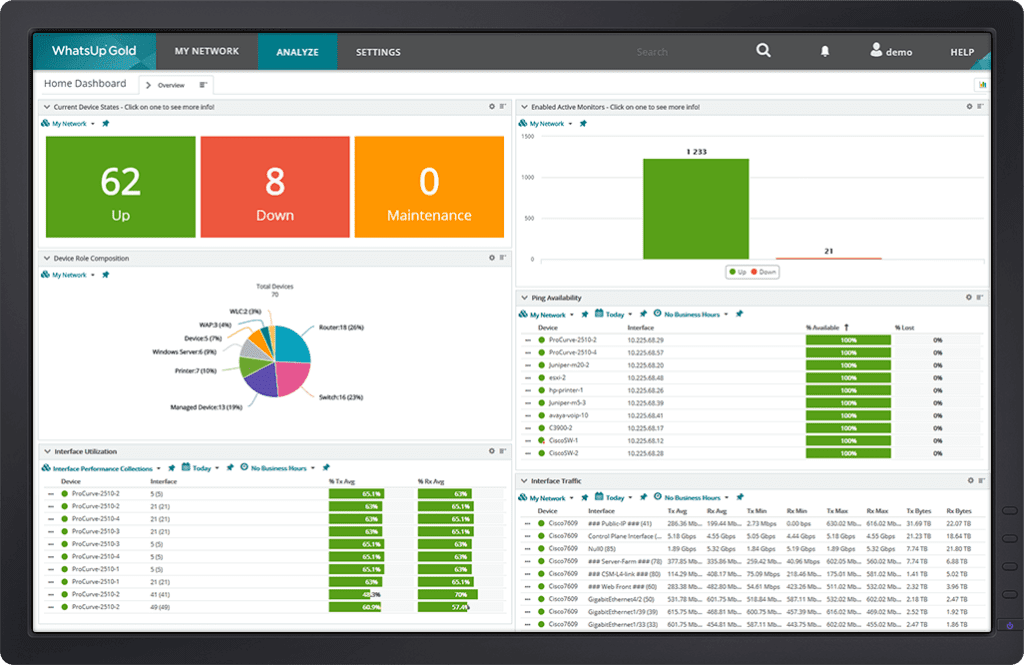 Get Real-time Alerts
Ensure optimal performance and availability to meet or beat SLAs. Manage networks, traffic, physical servers, VMs and applications with easy-to-use and customizable maps, dashboards and alerts. Click on any device in WhatsUp Gold to get immediate access to a wealth of related network monitoring settings and reports.
Resolve Issues Quickly
Intuitive workflows and easy customization help you reduce MTTRs. WhatsUp Gold streamlines network monitoring workflows by letting you initiate management tools directly from the interactive map. Easily switch between physical, virtual, wireless and dependency views to resolve issues quickly.
Integrate and Automate with REST API
The new WhatsUp Gold REST API offers a powerful suite of calls that let you integrate network monitoring data with other systems and also let you automate a broad range of network monitoring tasks such as adding and removing devices.
What Can You Monitor with WhatsUp Gold?
Application Performance
Easily monitor the performance of Linux systems, Apache web servers and Microsoft applications.
Bandwidth Consumption
Analyze bandwidth consumption across networks, servers, applications and more.
Cloud-based Resources
WhatsUp Gold gives you comprehensive visibility and control of AWS and Azure cloud environments
Network Performance
WhatsUp Gold helps you find and fix problems before your users are impacted.
Hyper-V and VMware
Get powerful visibility to physical, Hyper-V and VMware environments.
Wireless Networks
WhatsUp Gold can visualize and assure the performance of your wireless networks.
Try it.
Download a free trial.
Monitor Remote Sites
With WhatsUp Gold Distributed and MSP Editions, you get all the capabilities of WhatsUp Gold in a scalable, low bandwidth solution for monitoring remote environments.
Distributed Edition
WhatsUp Gold Distributed Edition provides scalable and secure network management and monitoring of any number of remote sites from a centralized NOC. No matter how many locations you have, the Distributed Edition gives you accurate information on all your network installations, all the time.
MSP Edition
WhatsUp Gold MSP Edition gives managed service providers the ability to monitor customers' remote networks from a central location. Comprehensive network management and monitoring of centralized, distributed and mixed client environments keep MSPs informed about the overall health of all networks.
Download Your Free Trial
Complete the form to download your free trial of WhatsUp Gold.
Click here for latest system requirements.