Monitor Uw Cloud in Context
Cloud Service Providers kunnen u rapporten geven over uw cloud gebruik en toepassingen, maar dat is niet het hele plaatje. WhatsUp Gold behandelt de cloud net als de rest van uw netwerk en geeft informatie weer in context van uw netwerk infrastructuur. Monitor, rapporteer en ontvang alerts voor de status van elke statistiek die beschikbaar is via de AWS- en Azure API's. U kunt die informatie vervolgens integreren in uw waarschuwingscentrum, dashboards en uw interactieve netwerk map.
Ontdek en inspecteer in detail uw AWS- of Azure-cloud omgeving op uw netwerk map
Monitor elke parameter die wordt ondersteund door de Amazon AWS- en Azure cloud API's
Stel alerts in om problemen in de cloud proactief op te lossen
Bekijk, monitor, alert en rapporteer over cloud facturatie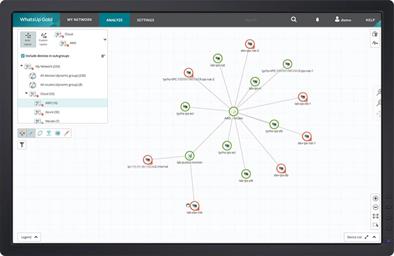 Cloud resources toewijzen
WhatsUp Gold-software detecteert automatisch cloudgebaseerde bronnen en toont ze op dezelfde interactieve map die uw on-premises netwerk toont. Zo krijgt u end-to-end zichtbaarheid van uw volledige netwerkinfrastructuur.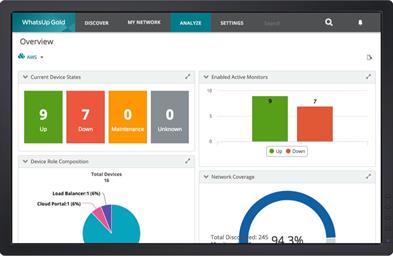 Gebruik en kosten controleren
Elke parameter die toegankelijk is via de Amazon AWS of Microsoft Azure cloud API's kan door WhatsUp Gold worden gecontroleerd. Problemen worden op de kaart gemarkeerd en zijn daarmee direct en in één oogopslag zichtbaar. Met één klik kan worden ingezoomd om de details te zien.