If asked to name the five most-viewed sporting events in the world, what would you say?
Perhaps The World Series, March Madness or Wimbledon?
All good guesses, but you'd be wrong in each case. Here are the top five events when it comes to attracting a media audience, with the most-viewed at the top:
The World Cup
The Olympic Games
ICC Cricket World Cup Championship
Super Bowl
Monaco Grand Prix
And while they are all on the same list, the standings aren't even close. The World Cup is far and away the most watched sports event on the planet. Here are some interesting statistics from FIFA's 2010 World Cup Television Audience Report.
In-home audience reach based on viewers watching at least:
1+ minute of coverage: 3.2 billion representing 46% of the global population in 2010
3+ consecutive minutes of coverage: 2.8 billion representing 41% of the global population in 2010
20+ consecutive minutes of coverage: 2.2 billion representing 32% of the global population in 2010
30+ consecutive minutes of coverage: 2.0 billion representing 29% of the global population in 2010
Think about that for a moment. Nearly half of the world's population tuned in for at least a brief time to watch one of the 64 matches that make up the World Cup tournament. In fact, FIFA says 909.6 million television viewers watched at least one minute of the 2010 World Cup final at home between Spain and the Netherlands, and the total likely topped a billion when adding online and public screenings. One billion people for one match. Really mind boggling numbers when you consider that the highest-rated Super Bowl (a borderline national holiday in the United States) of all time, the New York Giants vs. the New England Patriots garnered 111.6 million viewers.
With the World Cup set to kick-off today, we thought it would be both an entertaining and informative exercise to look at this event and the potential it has to impact your corporate network. Over the next several weeks we'll explore what increased viewership of this event, coupled with the increase in networked devices and availability of streaming options mean to your organization.
The world's most popular sporting event is about to kick-off, is your network ready?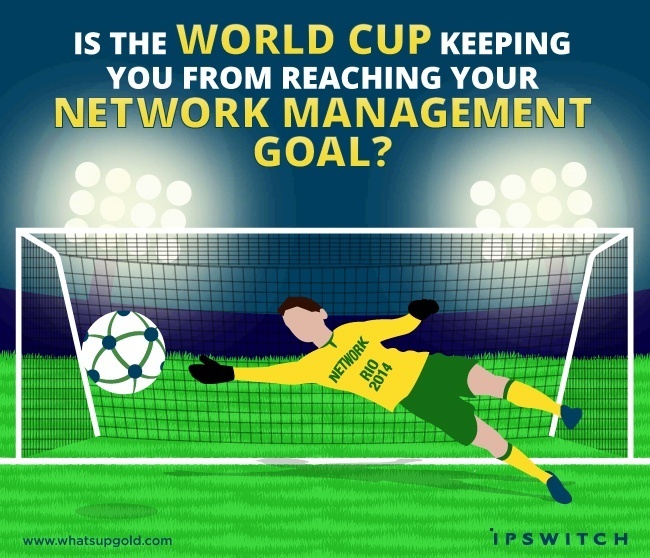 Tags