It's been predicted for years that most computers will run in the cloud and your screen will be the only connection between you and the cloud. Does that mean the business infrastructures will matter anymore, and what does that mean for the future of network monitoring?
Think about all the devices on the business infrastructure today. You have routers, switches, servers, user computers, etc. All of this is being monitored with some form of a network monitoring solution by IT teams. However, the argument is that the infrastructure won't be necessary anymore once we move all servers and applications to run in the cloud.
I recently read an article on TechRadar about how IT operators will no longer have to focus on infrastructure when monitoring business networks. The gist of it is that due to the continuous movement of business infrastructure into the cloud and away from bare metal servers on premises, IT will no longer need or care to monitor the internal business infrastructure. The problem with this viewpoint is that it is a bit of a pipe dream.
I agree that most if not all servers will be accessed off-site in the form of the public or private cloud. Much of the data storage will undoubtedly be outsourced to companies who provide cloud storage and virtualization. But there is still a lot to be desired in the cloud when it comes to personal devices. Maybe there will be less of a need to monitor servers since those will be managed by the vendor, but there are other aspects of the business infrastructure that aren't going away any time soon.
Jim Cashman, Principal Product Manager for WhatsUp Gold, also isn't convinced that monitoring the business infrastructure won't be a thing in the future.
"Businesses will continue to have large amounts of networking gear on site that needs to be monitored. I agree that they won't be servers. But switches, routers, and firewalls will still be in use," Jim explains.
And Jim's sentiment makes sense. Even though the servers may not be running in your local server closet, users still need access to those external servers. That one fact alone means that firewalls will always be necessary. Security risks and bandwidth will dictate that some form of traffic analysis of inbound and outbound traffic to your internal network will be critical to IT operations.
As for user access, there needs to be some type of computer, as small of a profile as it may have, that has the ability to access resources in the cloud. That's why switches and routers aren't going away. They may get smaller and become more streamlined, but they still need to be monitored since this is how everyone will be able to connect in an office environment.
Application Monitoring in the Future
As the article on TechRadar suggests, containers are of course changing the way that businesses run applications by moving these processes into the cloud and off of any local machine. The article continues that the future of monitoring will focus entirely on application monitoring. This would mean that monitoring the internal business infrastructure is not necessary.
Jim agrees that application monitoring will be more important, but with some nuance.
"Application monitoring will become more important. You will not want to trust your vendor and will need a monitoring package that can do some monitoring of your hosted infrastructure. Cloud vendors are already adding APIs to monitor these things. You can expect these APIs to become more robust as time goes on. But, as important, will be some sort of synthetic monitoring where you don't even trust the vendors API, but you run synthetic transactions against your hosted infrastructure to make sure it's really running, and you can monitor things like response time and uptime," says Jim.
At the end of the day, network monitoring as we know it will change in some capacity. In some cases, it may come down to how much you trust a vendor or those 3rd party APIs that help support business services and cloud infrastructure. Bandwidth and cloud resources are commodities that need to be monitored to manage costs. And don't forget that users need to connect to those resources.
Business infrastructures will always, at least in the foreseeable future, need to be monitored. All that aside, the future of tech is a bright one. One look at this human mech warrior from Intel below proves it.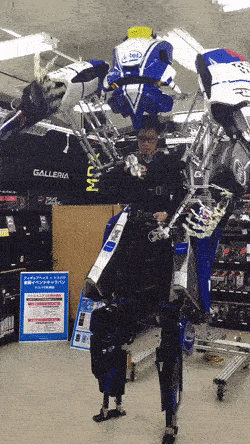 Tags