Try to explain your network topology to a stranger in a bar and you'll get a blank stare—the same look your CEO would give. Show that CEO a map, report or even your network monitoring dashboard, and recognition will creep across their face.
Of these three, a network map is the most concise and effective way to demonstrate the architecture. So, what is it? "Network mapping is a process used to discover and visualize physical and virtual network connectivity via a group of interrelated tasks that facilitate the creation of a network map, including flow charts, network diagrams, topology detection and device inventories. It is geared toward the creation of visual aids and materials that can be used for a broad array of purposes, especially network maintenance," explained Techopedia's Network Mapping Definition. "Network mapping allows network administrators (NA) to visualize and break down complex networks into smaller portions, allowing the NA to analyze and view the network, check for connection errors and pull up details that facilitate an issue's root cause analysis. By using a mapping system's active monitoring module, administrators can track network changes in real time."
Why Does Network Mapping Matter?
The old saying, "You can't see the forest for the trees," applies aptly to networks. Having a high-level view that you can drill down into is a game changer for network pros. "Having a network map allows you to visualize your network and everything associated with it. Through a network map, every device currently connected to your network is visually represented. Most network mapping tools automatically generate maps based on periodic scans, keeping your network visualization regularly up to date. Some programs even allow you to customize how your map looks, giving you control over how you want your map to look," explained Solutions Review's What is Network Mapping and How Does it Help Network Performance? "Depending on the tool, network maps can alert you when problems like excess traffic or networks going down occur. By checking your map, you can instantly see what devices are having problems, which will help you quickly figure out where the issue is coming from. Some mapping tools have automation features to instantly address detected problems."
Seeing the condition of connected devices visually is also useful for determining areas of your network that need strengthening. You may discover potential bottlenecks or places for chokepoints by visually analyzing your network and its devices.
"Network maps can be one of the most important tools in an IT team's arsenal. They're handy in helping you visually recognize every aspect of your network. Seeing devices on your network in real time allows you to see any problems as they develop. With network mapping, IT professionals don't have to imagine where the issues might be happening. They can observe firsthand where the problem is coming from, allowing them to deal with it quickly and efficiently," Solutions Review concluded.
How WhatsUp Gold Handles Mapping
WhatsUp Gold maps are available as soon as the network is 'discovered' and a map of the initial discovery device group is made. After that, IT can customize the map, or discover and map other device groups.
WhatsUp Gold uses Layer 2 and Layer 3 discovery to populate the network maps, including techniques such as SNMP, ARP, ICMP, Virtual Infrastructure Management, IP addressing, CDP, LLDP and more.
Mapping Device Dependencies
When a problem arises, network pros need to know what really needs fixing. If devices or services dependent on another network element, such as a switch, fail, it is not the services that need attention—it is the switch. Fortunately, WhatsUp Gold discovers and maps these dependencies. This way, IT is alerted to the switch problems and not swamped with alerts for the dependent devices and services.
Visualize Bandwidth with Heat Maps
WhatsUp Gold can measure bandwidth usage and shows this via a 'heat map' with the precise status of links between network devices. IT can visualize which interface links are good (green), congested (yellow) or nearing their limit (red). This way, IT sees network congestion with one quick glance.
Map Wireless and Virtual Environments
Wireless devices and access points and virtual and cloud-based servers are growing like weeds, and just like weeds, they need to be managed. Fortunately, WhatsUp Gold can automatically build dynamic wireless maps of all your access points and SSIDs. These maps also show the relationship between wired and wireless networks. Meanwhile, the solution also generates dynamic maps of your virtual infrastructure such as Hyper-V and VMware, showing hosts and guests, host/guest relationships, clusters and real-time statuses.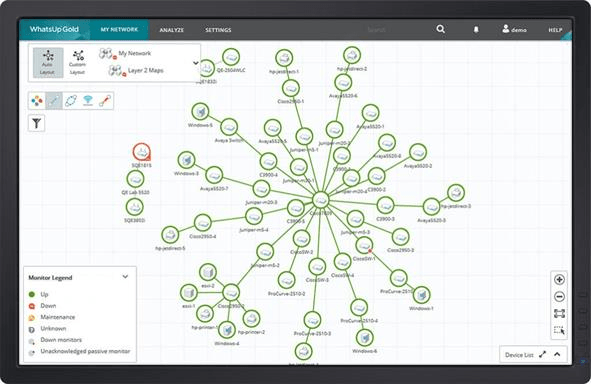 Smart Maps
WhatsUp Gold maps aren't simply static views but are driven by real-time data. Not only that, but the maps also include an array of annotations, device icons and other graphical indicators that detail the state of your network. The device icon, for instance, includes details such as the hostname or IP address of the device.
Mini Case Study: How One Customer Uses WhatsUp Gold Mapping
The Lindesberg Municipality adopted WhatsUp Gold to track connections between its switches or routers, monitoring servers, tracking Azure and Microsoft Office 365 and myriad other critical applications.
Today, the Municipality has a 24/7/365 'on call or stand by' service that springs into action when it gets an alarm from WhatsUp Gold.
Network maps are vital to giving the support staff a true, easy-to-grasp picture of network issues such as connection problems, heavy traffic loads or anomalies. IT can see the network and vital services in real-time. They can even personalize the view.
Lindesberg also uses WhatsUp Gold to gather statistics on the number of users connected to access points in schools. If the use threshold is reached (which is 60), they can simply add another access point. "A good example of where WhatsUp Gold is used to improve the quality of the Wi-Fi network is that we monitor the maximum simultaneous connections of an access point. With those statistics on hand, it is much easier to plan for the expansion of the Wi-Fi network," said Anders Widegren, Departmental Manager IT and Telecommunications, Lindesberg Municipality.
Learn more by reading the full Lindesberg Municipality Improves Network Reliability and Quality case study.
Tags