Today, WhatsUp Gold introduces cloud monitoring and enhances storage monitoring capabilities. Service packs are meant to address issues or bugs, but this service pack is actually packed full of new features!
We're super excited about this release. And matter of fact, what's even more exciting is that we just released WhatsUp Gold 2017 Plus a little bit over a month ago and we're already talking about the new service pack coming out.
Believe it or not, we've had over 3,000 people download WhatsUp Gold 2017 Plus over the past couple months and many of our customers upgraded within the first month or so. So, it looks like we're getting some traction with this one. The chatter on the community alone has been awesome.
If you haven't had a chance to download and try WhatsUp Gold 2017 Plus today, we encourage you to do that or you can go get an evaluation copy if don't wanna upgrade your production system. But if you get a chance, it's well worth the upgrade.
So, how are we making it better with Service Pack 1?
There are a number of enhancements and due to the length this post would become, we won't go through all of them. So, if you want a full detail, it's listed out in the community for the WhatsUp Gold, but you can also go Google just the release notes for Service Pack 1 and you'll be able to see those and get the information there as well.
WhatsUp Gold Now Has Cloud Monitoring
The first of the new features is cloud monitoring support. With Service Pack 1, you'll have support for devices in AWS and Azure environments. So, just like any other device you might be able to find with WhatsUp Gold, it will discover the devices in your cloud network as well. You'll be able to map those devices and put monitors on them.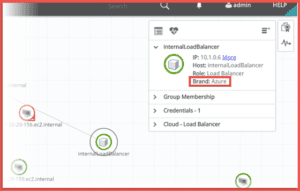 Those cloud devices will essentially be an extension of your network. In WhatsUp Gold, we're gonna see them as the same extension. So, just like you monitor routers and switches in your servers locally, we'll be able to monitor your Load Balancers, your VMs in the Azure and AWS environments. There's a credential set up for each one of the different types of cloud monitors and it's based on an account access that you give WhatsUp Gold through your account management within that cloud environment.
Let's say that one of your VMs runs a Windows type application, and just like any other Windows server, you want to apply a CPU disk performance monitor and collect that information. Now you can see the same type of information in a cloud environment that you see with an on-premise environment.
However, we can't emphasize enough that this is really just the beginning of cloud monitoring in WhatsUp Gold. You'll see a number of other enhancements for cloud monitoring support in the coming months.
Expanded Monitoring for Local and Cloud Storage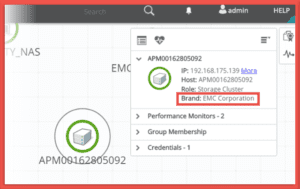 Next on the new feature list, WhatsUp Gold now has expanded storage monitoring support. WhatsUp Gold already had support for NetApp, but with this release, we've added support for Dell EMC Unity's storage monitoring platforms. You'll be able to monitor these platforms and provide additional information.
We will be expanding on these enhancements and we're gonna because we're seeing more and more customers that are putting storage systems in their environment. There's a need to collect more data and have that data available. While customers are still putting some storage in the cloud, a lot of people are still using local storage, because they want to protect their data.
More Performance Improvements
There are a number of performance improvements. We're constantly looking at trying to increase performance of the product, and that's something we've been doing since we created WhatsUp Gold.
WhatsUp Gold 2017 Plus Service Pack 1 enhances report generation. You've always been able to export PDF reports in a scheduled environment. So let's say every day you wanna send your boss a report that had a nice, pretty graph on it. Well, now, with this release, you can actually export the data on a scheduled environment.
You could say, "Hey, I wanna get at txt or a CSV or an Excel spreadsheet every morning with this data in it." Because maybe you're doing further analysis or you wanna give it to a different department to do something with the data. You can actually schedule that now. You could get the picture of the data in the PDF before, but you couldn't get the data out. So now we're gonna give you the ability to export that data on a scheduled basis just like you could the report.
When is Service Pack 1 Available?
As many of you know, we launched WhatsUp Gold 2017 Plus just a little bit over a month ago. And you would think, "Well, the service pack will take a while to come out." But that's just not the case.
As of today (August 24th, 2017), you'll actually be able to download and upgrade to Service Pack 1. You'll also be able to get the Eval copy and try out Service Pack 1 if you choose. You're gonna see some great features and great capabilities. So we encourage you to check out the link to the release notes and look at some of the enhancements that are actually in the product. And if you're new to WhatsUp Gold, download a 30 day free trial today.
Tags