Product awards are always great, but even better when driven by customer feedback. And that's exactly how InfoTech Reports comes up with its winner. In their most recent Data Quadrant Report Network Monitoring – Enterprise, which came out in November 2021, WhatsUp Gold pulled a Phelps by winning a Gold Medal – to go along with a bevy of awards from G2, Network Computing and scads of others.
After 704 reviews of 13 products, WhatsUp Gold ranked FIRST in the Network Monitoring Data Quadrant and took the gold. WhatsUp Gold also ranked first or second with InfoTech in business value created, breadth and quality of features, vendor support, ease of administration, ease of customization, availability and quality of training, and ease of implementation.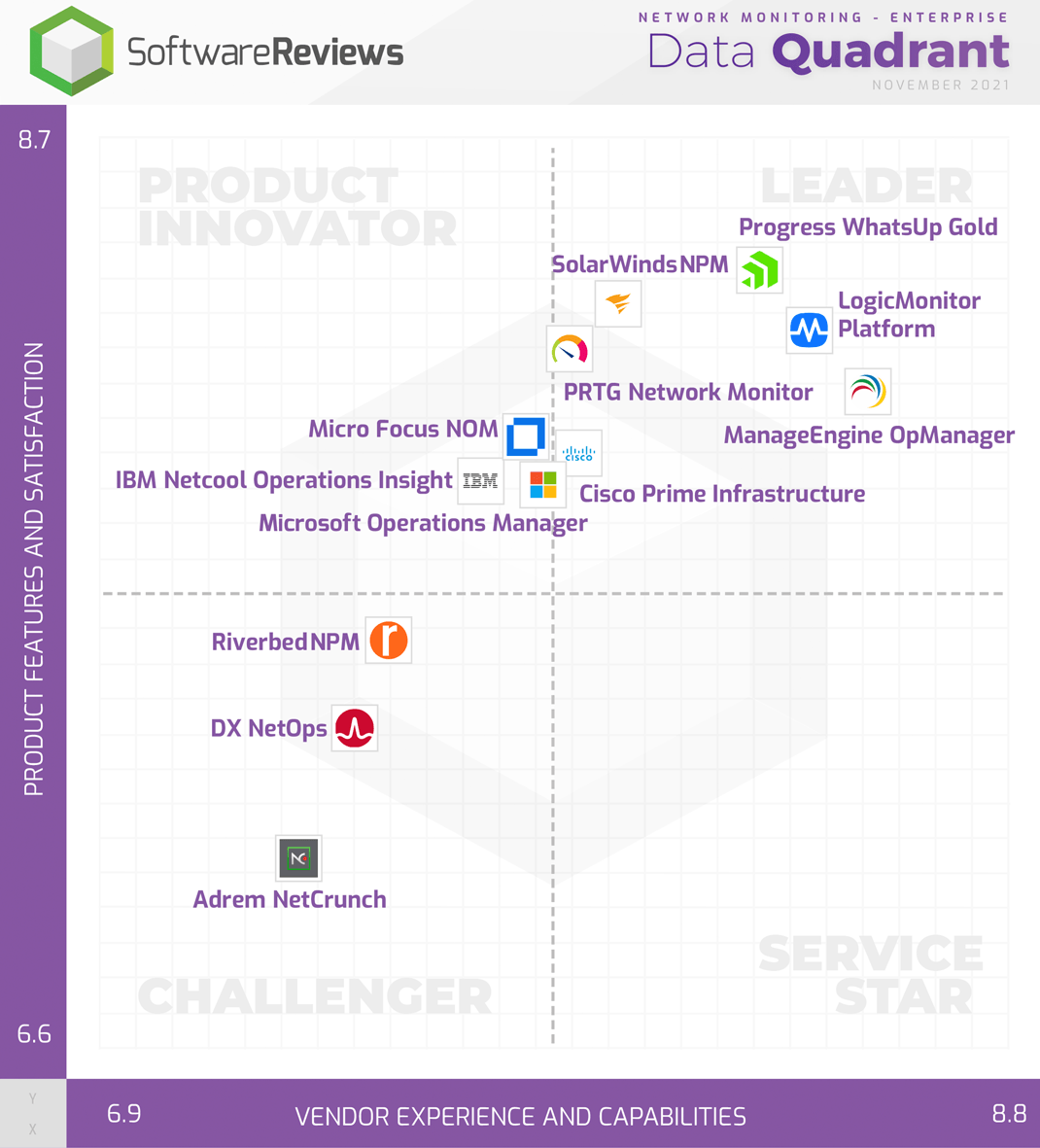 Some of the words and phrases customers used to describe WhatsUp Gold and Progress include: "inspiring", "trustworthy", "love" (yes, they actually used the word love), "helps innovate", "puts client interest first", and "over-delivers."
Many fans are longtime WhatsUp Gold customers, such as Cliff W. "Having used WhatsUp Gold for the past 10+ years and throughout several industries, it has proven to be an effective way to monitor and manage network devices, identify trouble spots, and provide reliable health trending of multiple performance variables. After the initial learning curve it has an intuitive structure to expand its functionalities and tailor them to your specific environment," Cliff said. Cliff's favorite aspects? "Trending, versatility to monitor most metric indicators you can come up with. I have always appreciated the mapping functions as it made explaining the network to the C-Suite, support staff, and outside vendors much easier."
Steve T. on the other hand likes a good value, and with WhatsUp Gold, he's been enjoying "the price for the features you receive. You have the flexibility on how you want to use the features with their points system. You don't have to buy features you may or may not use. The sales team is not pushy like others," Steve said.
David H. likewise enjoys the vendor relationship, and points to "the level of customer service and the willingness of Progress employees to assist us at every turn with sales and post-sales support."
Jenny S. couldn't do without WhatsUp Gold. "I definitely recommend the product for monitoring disk, processor, memory, and server availability. It has been very accurate for us and a lifesaver," she said.
Advice for Those Looking for Network Monitoring
WhatsUp Gold fans such as Joshua C. have a simple bit of advice to potential customers. "Just buy it and sleep better at night." Julie L. has the exact same sentiment. "Ask for a demo and test it out yourself," adding, "it's nicely designed and it's easy to get used to what you need to monitor (what's important) on the network. You'll get all the analytics once you input available credentials to read the device."
Ryan W. is in the same camp. "Give the trial a look. It's a quick and easy install on Windows." Russell B. joined the club, exclaiming, "give it a try and you'll probably buy!" Russell also touts "care and concern from the vendor" as another plus.
Finally, Kirubel H. advised those interested in WhatsUp Gold to simply "get it. Will save you time and most of all security."
Get all the InfoTech Reports details here.
Customers Talk to G2
InfoTech is not the only customer-driven report. G2 has been long known for its customer reviews, and many refuse to buy a new solution without checking with G2 first.
In the Winter of 2021 G2 Network Management Report, WhatsUp Gold was named a Leader in Network Management and Ranked #1. "Progress WhatsUp Gold has been named a Leader based on receiving a high Customer Satisfaction score and having a large Market Presence. Progress WhatsUp Gold has the largest Market Presence among products in Network Management. 94% of users rated it 4 or 5 stars, 80% of users believe it is headed in the right direction, and users said they would be likely to recommend Progress WhatsUp Gold at a rate of 89%. Progress WhatsUp Gold is also in the Network Monitoring, Network Automation, Network Traffic Analysis (NTA), and Dark Web Monitoring categories," G2 explained.
WhatsUp Gold takes the cake in the following awards from G2's Winter 2022 Awards:
Leader in Network Monitoring
Leader in Network Management
Leader in Application Performance Monitoring (APM)
Most Implementable Mid-Market APM
Best Results Mid-Market APM
Fastest Implementation Enterprise APM
Fastest Implementation Enterprise Network Monitoring
Best Estimated Return on Investment (ROI)
Enterprise APM Leader in Network Management
High Performer in Network Management
Easiest to Do Business with Small-Business Network Monitoring
High Performer Enterprise Network Monitoring  

Network Computing Names WhatsUp Gold "Network Management Product of the Year"  
Network Computing is a publication "For IT, by IT." I ought to know, I wrote that tagline as Editor in Chief of the publication way back in 2001. That means its writers are steeped in the work of IT, not just journalistic observers.
So, it's enormously cool when the public named WhatsUp Gold Network Management Product of the Year and winner of the Bench Tested Product of the Year Software and Services Category.
Customers Talk to Capterra
Like G2, Capterra reviews are based on real customers who, as shown in the Capterra WhatsUp Gold Reviews, are big fans, telling the site that:
"WhatsUp Gold provides an easy to configure, flexible and reliable monitoring solution."
"WhatsUp Gold has done an excellent job of finding my endpoints and network devices. The alerts are very informative and timely."
"Thanks for providing a fantastic monitoring solution for our network."
Like the InfoTech and G2 customer reviews, Kristina H. raved to Capterra about working with Progress. "The customer support is great and the reps are great. The software has free updates which is awesome and the community board is very helpful. I would recommend this product to any IT environment that is looking for a network monitoring solution," she said.
A great vendor relationship means nothing if the solution is not up to snuff, which is clearly not a problem for Kristina. "It fits exactly what we need it to do. Monitor our devices and send us alerts when there is an issue. The schematic is also very helpful because we have it broken down into locations and grouped together to make things easier to use. It is also very helpful to put all the information we have into the details of the device so that it's all in one place. It helps us stay organized!" she gushed.
Dustin R. feels safe knowing a Network Monitoring solution is keeping the network safe. "The alerts are where WhatsUp Gold really shines. They are all fully customizable and once they're set up to your specifications they work like a dream. A majority of the time we will know when something on the network goes down before our users even notice the problem!" Dustin said.
Jim D. has the same experience. "We use WhatsUp Gold to proactively tell us when something is wrong before users start complaining. It has served us well in this capacity. We use WUG thresholds and NetFlow data to determine when business (and non-business) processes are interfering with user performance at our branches with limited network capacity. We use the NetFlow data and work with the branch to have the offending processes eliminated or moved to after-hours when there is no user impact. We use thresholds and dashboard graphs to provide capacity planning information," Jim said. "The ease of adding a device, and getting monitors configured with alerts is what we like best. To go from no monitoring to getting a text/email when something goes wrong is relatively easy with this product. The ease of putting specific graph items on a page (dashboard) is also very useful."  
Enterprise Networking Planet Picks WhatsUp Gold as One of the "Best Network Monitoring Tools & Software of 2021"
In its Network Monitoring Guide, Enterprise Networking Planet says WhatsUp Gold has much to offer, including:
Displays network status showing all connected devices, their status, and how they are connected
Administrators can zoom in or out and click on any device to immediately access status information
The display can be filtered by device type, role, geographic location, status, and other criteria
Licensed by device rather than by interface, sensor, or element
WhatsUp Gold is customizable out of the box
Drag and drop any report to create custom dashboards
Browser-based
Create diagnostic views showing the location of every wireless access point on every floor of the office
Inbound and outbound APIs to automate actions via scripts or to integrate with any third-party application  
A Couple More Awards
Think that's all? There are two other awards worth mentioning. In its Remote Monitoring and Management Report, Get App Ranks WhatsUp Gold a Leader in APM, Server Monitoring, and Server Management.
Finally, Software Advice ranks WhatsUp Gold as a Front Runner for APM and Server Management.
Tags