Netwerkverkeer bewaken
WhatsUp Gold verzamelt netwerkverkeer en bandbreedtegebruiksgegevens van elk apparaat met stroomvoorziening in het netwerk. Het ondersteunt Cisco's NetFlow en NetFlow-Lite, evenals NSEL protocollen, J-Flow, sFlow en IPFIX.  Gegevens verzamelen en bekijken voor Cisco CBQoS (Class-Based Quality of Service) en NBAR (Network Based Application Recognition).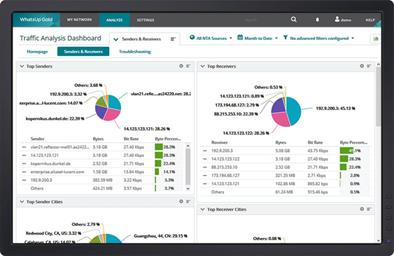 Meldingen ontvangen
WhatsUp Gold biedt waarschuwingen op basis van drempels om bandbreedteproblemen aan te pakken voordat ze van invloed zijn op uw gebruikers, toepassingen en bedrijven. Het waarschuwt u wanneer afzenders of ontvangers bandbreedtedrempels overschrijden, wanneer het interfaceverkeer het gebruik overschrijdt drempels en wanneer u mislukte verbindingen en het aantal drempelwaarden voor gesprekspartner overschrijdt.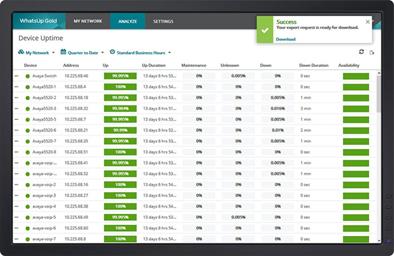 Verslag
Maandelijkse ISP bandbreedte kosten zijn duur. U wilt niet meer bandbreedte toe te voegen, tenzij je het nodig hebt. Met WhatsUp Gold-software u inzoomen op de bronnen en bestemmingen van uw internetverkeer, de toepassingen die internet verbruiken bandbreedte, en de gebruikers van die toepassingen. Op deze manier u ervoor zorgen dat uw bedrijfskritieke webtoepassingen de bandbreedte krijgen die ze nodig hebben.