Monitor Netwerkverkeer
WhatsUp Gold verzamelt netwerkverkeer en bandbreedtegebruiksgegevens van elk flow-enabled apparaat op het netwerk. Het ondersteunt Cisco's NetFlow en NetFlow-Lite, evenals NSEL-protocollen, J-Flow, sFlow en IPFIX. Verzamel en bekijk gegevens voor Cisco CBQoS (Class-Based Quality of Service) en NBAR (Network Based Application Recognition).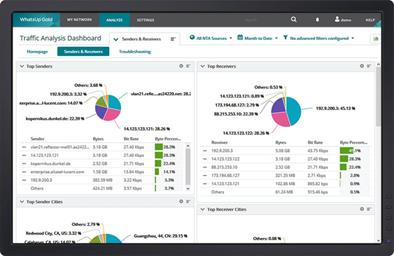 Ontvang waarschuwingen
WhatsUp Gold biedt op drempels gebaseerde waarschuwingen om u te helpen bandbreedteproblemen op te lossen voordat ze invloed hebben op uw gebruikers, applicaties en bedrijf. Het waarschuwt u wanneer afzenders of ontvangers de bandbreedtedrempels overschrijden, wanneer het interfaceverkeer de gebruiksdrempels overschrijdt en bij mislukte verbindingen.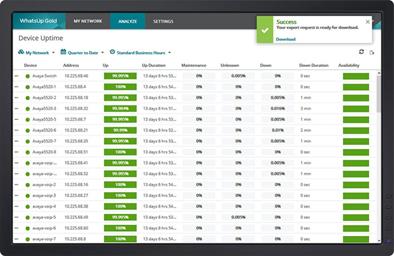 Rapporteer
Maandelijkse kosten voor ISP-bandbreedte zijn duur. U wilt niet meer bandbreedte toevoegen, tenzij u deze nodig heeft. Met WhatsUp Gold-software kunt u inzoomen op de bronnen en bestemmingen van uw internetverkeer, de applicaties die internetbandbreedte verbruiken en de gebruikers van die applicaties. Op deze manier kunt u ervoor zorgen dat uw bedrijfskritische webapplicaties de bandbreedte krijgen die ze nodig hebben.