The phrase "quick and dirty" is popular in the business world, but in some ways it's really kind of a misnomer. Take for example an IT department that is stuck in the mud of network, applications and server performance problems. Things are certainly dirty, but they are definitely not quick.
In this sense, being stuck in the mud isn't just about slow or intermittent performance issues; it's about IT departments making the slow trudge through an entire suite of solutions hoping to discover the root cause; it's about users suffering lapses in productivity and it's about SLAs that go unmet.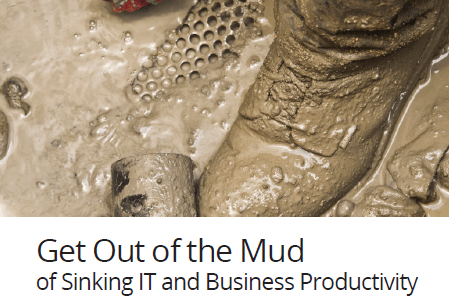 If you want to get unstuck—and we hope that you do—you can take your first step out by checking out one of our latest eGuides, Get Out of the Mud of Sinking IT and Business Productivity. This informative eGuide will show you how to leverage dependency-aware mapping to create a unified dashboard of your network and application infrastructure and improve fault isolation and resolution speeds for increased business productivity.
The tools and techniques covered are affordable and easy to deploy—meaning you'll never feel stuck in the mud again. Some of the challenges discussed in the eGuide include:
Low IT Productivity
If you can't identify the fault that's causing your performance problems, how can you fix it? Answer: you can't. Disparate, open source, or inherited monitoring solutions often make it unnecessarily complicated for you to identify root cause. To do that, you'll need a solution with dependency awareness and rapid discovery and mapping to find that root cause—and reclaim your lost time. Otherwise, as we note in the eGuide, you'll end up taking this route:
The alternative is to manually and painstakingly map your entire network— and create each and every dependency individually (numbering hundreds or thousands of devices)—which can result in your team losing days and weeks of valuable time. That's time that could have been spent on more productive tasks that add value to your organization and enhance its core competencies.
Low User Satisfaction
An unhappy user is an unproductive user—and unproductive users tend to voice their complaints. First to you, then to management. Your users aren't interested in your excuses. All they ask for is an available network that runs smoothly, giving them the ability to work efficiently so that they can deal with their own job tasks—instead of worrying about yours.
In the eGuide, we explain how to keep your users happy by anticipating and fixing network problems before they happen, and how to find a fast, easy way to isolate issues—and keep that network running.
Budget Limits
Expectations for network performance (and those who manage it) have skyrocketed in recent years, while budgets have remained relatively flat. This becomes extremely problematic when companies decide to go with vendors who employ per-port pricing model. In the eGuide, we explain why it's more cost-effective to leverage a per-device pricing model, and that by doing so, you won't end up paying for expensive upgrades after evaluation or when it's time to renew your license.
So if you're looking for a "quick and clean" solution to your network performance problems, then be sure to check out the latest eGuide here:
Get Out of the Mud of Sinking IT and Business Productivity >>>
Tags