Asset Inventory with WhatsUp Gold
WhatsUp Gold comes with the capability to create a complete asset inventory. This network discovery tool uses a variety of technologies and protocols — ARP, SNMP, SSH, Virtual Infrastructure Management, IP addressing, ICMP, LLDP, WMI and Telnet — to automatically discover, locate and collect comprehensive device information across routers, printers, switches, servers and firewalls.
The asset information collected includes the manufacturer/model, ID, serial number, hardware/software and firmware versions, chassis ID, module inventory and information about device hardware such as power supplies and fans.
WhatsUp Gold can categorize devices from a wide variety of vendors including Cisco, Foundry, HP, Nortel, 3COM, Extreme, Dell, Net gear, DLINK and VMware among others, thus making it an ideal tool to discover and draw up the network inventory for heterogeneous networks.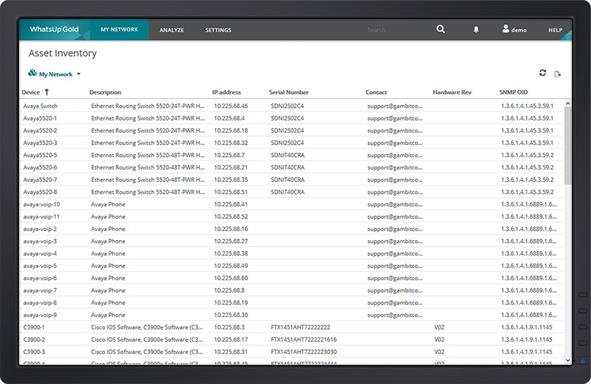 WhatsUp Gold Asset Inventory Report