What's New in WhatsUp Gold 2019
WhatsUp Gold 2019 has a whole host of user-driven improvements that let you proactively monitor more of what matters and give you real-time visibility into the status of your network environment.
Hyper-V & VMWare At-a-glance Virtual Monitoring
Meraki, Aruba & More Cisco Wireless Device Monitoring
AWS & Azure Cloud Status and Performance Monitoring
Interactive Network Map and Drag & Drop Customizable Dashboards
Automatic Migration of Existing Dashboards (from WhatsUp Gold v 16.5)
Integrate With Anything
NEW for 2019.2! Public REST API Support – WhatsUp Gold includes a powerful REST API that makes it easy to integrate it with your own systems or scripts. An extensive suite of REST API calls let you automate your workload by extracting specific data from WhatsUp Gold or inputting information from a separate system or script. You can extract current status information for use by another system, automatically put devices into maintenance mode before making changes, add or remove devices, add monitors and much, much more. WhatsUp Gold 2019.2 adds even more REST API calls for Credentials, Devices, Roles and Monitors.
See NTA Traffic on a World Map
New for 2019.2! Network Traffic Analysis Improvements New for 2019.2! Network Traffic Analysis Improvements – A new feature lets users display their NTA devices and flows geographically on a world map while also allowing for more detailed name resolution. NTA will now use data received from wireless access points to improve name resolution whenever possible. This makes traffic analysis easier and more effective
Monitor Cloud Applications
New for 2019.2! Cloud Application Performance Monitoring –WhatsUp Gold now has the ability to monitor AWS and Azure from within APM, integrating Cloud Monitoring with all the powerful features that APM enables. This makes it easier than ever before to monitor cloud-based applications in AWS or Azure environments.
More Granular Active States Reporting
New for 2019.2! Device Active States Report Enhancements – The Device Active Monitor States report has been improved to allow better filtering via monitor types, monitor states (up/down/unknown/maintenance) and all dates. In addition, the remote active states report will now report on states across multiple remote environments.
See What's Happening as It Happens
NEW! Live Activity Status Bar & Report – See exactly what WhatsUp Gold is doing in real time at the bottom of the interface – every status change, every alert and every changed value. Click on that bar to bring up the Live Activity Status Report where you can see all activity, filter it by type and severity and click directly on each item for more details. Not only is this an excellent way for administrators to see what's happening as it happens, it also makes a great NOC display.
Identify Suspicious Traffic
NEW! Suspicious Connections Report – Use Network Traffic Analysis to identify and reveal traffic connections and conversations with suspicious IP addresses inside or outside your network, allowing you to act quickly and take appropriate measures to correct the threat and minimize damage. A new IP Reputation library gives you control over suspicious IP address lists with the ability to retrieve up to date blacklists from independent sources or create your own. In combination with this report, you can also configure and send alerts based on abnormal user network behavior patterns.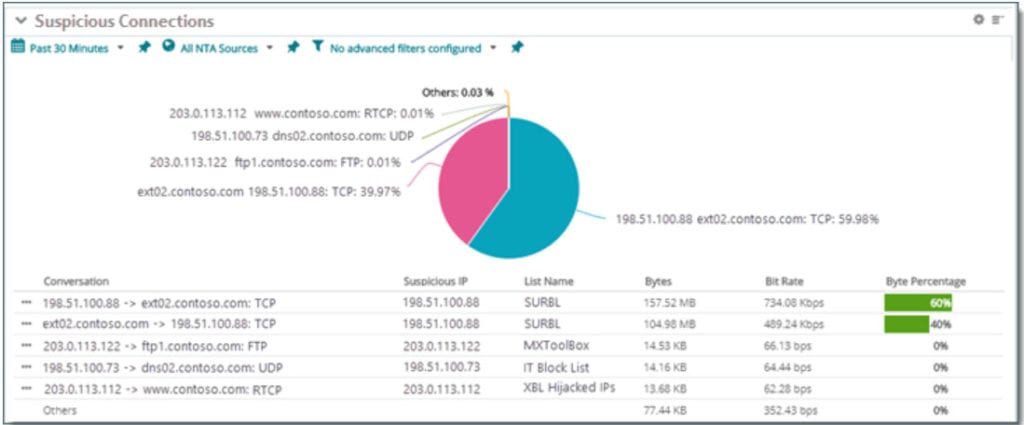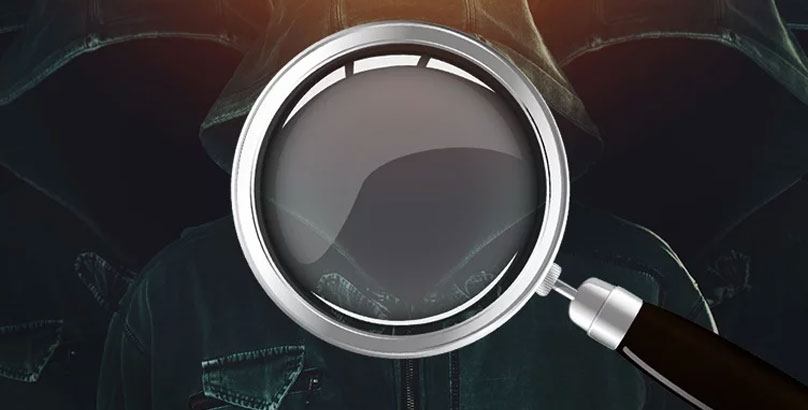 Dark Web (Tor) Detection & Reporting
WhatsUp Gold can alert administrators when users access the Dark Web (Tor). This feature monitors all Network Traffic Analyzer Sources and can alert when any host exceeds a configurable number of connections to known Tor ports during a set period. This allows administrators to control access to the Dark Web by their users.
Learn more.
Know Who Started Maintenance and Why
NEW! Enhanced Maintenance Mode – You can now enter a reason when placing a device into Maintenance Mode and view these reasons in the new Maintenance Mode Report. At any time you'll be able to see who but that device into maintenance and why, making it easier to keep track of why devices are in maintenance and to simplify communication with your team.
Find Configuration Discrepancies
NEW! Configuration Comparison Report – More easily view configuration archives from multiple devices and compare them side by side to see what's changed and when. This makes tracking down configuration discrepancies much simpler and easier.
Try it.
Download a free trial.
Simplify APM Workflows
NEW! Enhanced Application Monitoring Interface – The APM interface in WhatsUp Gold 2019 has been updated extensively to simplify workflows and improve usability. Now you can more easily monitor applications and services to assure optimal service levels. High-level application status can immediately be seen on the map and device list when the application monitoring overlay is enabled. The workflows for editing each monitored application, as well as discovering applications have been greatly improved.
Perfect Your Custom Maps
NEW! Custom Map Enhancements – It's easier than ever to create custom maps that display your network the way you want to see it. Map options now include the ability to 'Snap to Grid' for more precise control when moving and aligning devices and annotations. Maps also include higher zoom levels to more conveniently view complex networks, an optional scaling grid and the ability to change all device names to uppercase.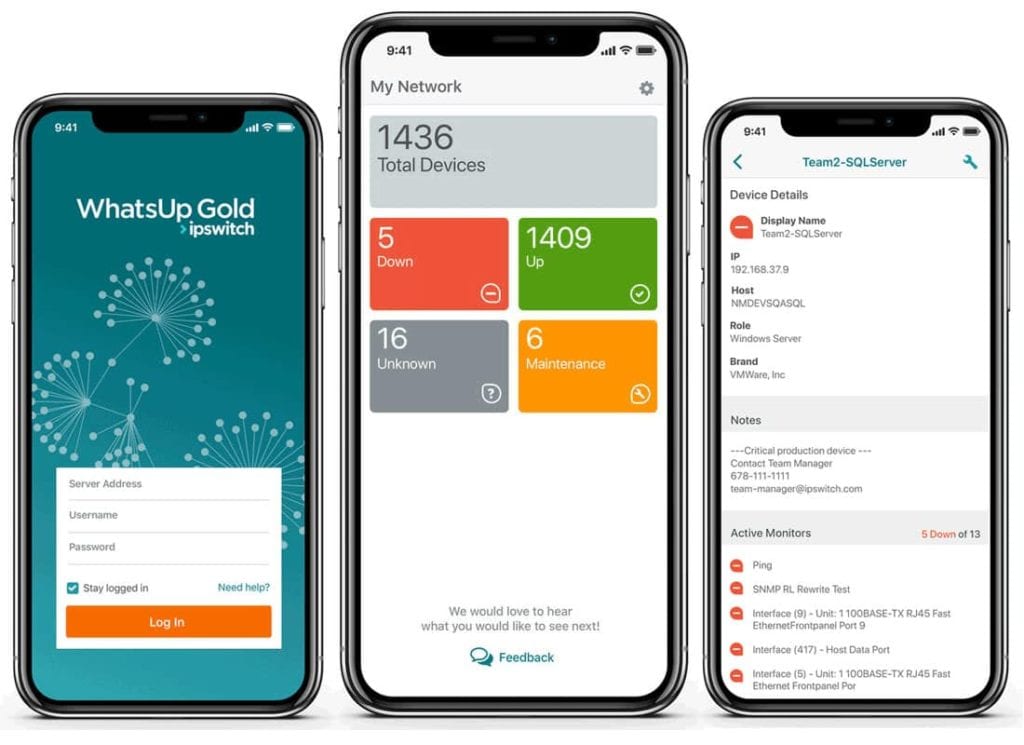 Get Network Status in Your Pocket
Now you can get current network information from WhatsUp Gold on your mobile device. See network status at a glance on the home page: what's up, what's down and what's in maintenance mode. Browse for specific devices for details and put them into or out of maintenance mode no matter where you are. Put the power of WhatsUp Gold in your pocket today and start resolving issues from anywhere. Available now for iOS and Android.
Monitor AWS & Azure Performance
WhatsUp Gold automatically discovers, maps and monitors cloud environments including Amazon Web Services and Azure servers. You can monitor, report and alert on the status and performance of every metric your cloud service collects via its own native API. Not only does this allow you to track cloud resource usage, it also allows you to track cloud billing and show this report on a simple dashboard. Use WhatsUp Gold to track long-term trends – something impossible with the 60 or 90-day metrics most cloud providers support.