If you're a Network Administrator in a small to medium-sized business, chances are you've heard about our monitoring solution, WhatsUp Gold. You may even have fond memories of using it years ago. If you've never heard of WhatsUp Gold, then even more reason to check out the newest version, WhatsUp Gold 2018, which is packed with new features and capabilities.
One of the new features that we're most excited about is our new and improved cloud performance monitoring capabilities.
As some of you may remember, in WhatsUp Gold 2017 Plus Service Pack One, we introduced cloud monitoring for Amazon Web Services (AWS) and Azure. Our active monitoring was able to tell you what was up, down, or available in your cloud networks.
Now, with the release of WhatsUp Gold 2018, we're pleased to announce that WhatsUp Gold now has full-on cloud performance monitoring capabilities, as well as a host of other new functionalities, including monitoring for Outlook365 and Cisco Meraki, and cloud billing monitoring and reporting.
Performance Monitoring for Amazon Web Services and Azure
WhatsUp Gold automatically discovers, maps, and monitors cloud environments, including AWS and Azure servers. And now, with WhatsUp Gold 2018, you can monitor, report, and alert on the status and performance of every metric that your cloud service collects via its native API.

Cloud performance monitoring is easy to set up, and it's extremely flexible. You can monitor anything you want to, as long as the information is available via your cloud vendor's API. And, because WhatsUp gold is communicating with the cloud platform's API, it's impossible to misconfigure a monitor—you're only able to select options available via the API.
Track Cloud Resource Usage Over the Long-Term
As many of you know, many cloud service providers limit usage metrics to 30, 60, or 90-day windows, which can make it pretty difficult to track long-term trends in usage.
One great benefit to our new cloud monitoring capabilities is that they give WhatsUp Gold users the ability to track long-term trends in cloud infrastructure usage.
With WhatsUp Gold 2018, you can save usage data for months, years, or even longer, so you can build a much more comprehensive view of usage trends.
Monitor and Report on Cloud Billing and Usage
Not only does WhatsUp Gold allow you to track cloud resource usage, it also lets you track cloud billing with the new billing cost performance monitor. Now, for the first time, WhatsUp Gold users will be able to track and report on cloud billing with a simple dashboard and generate executive reports to justify expenditures.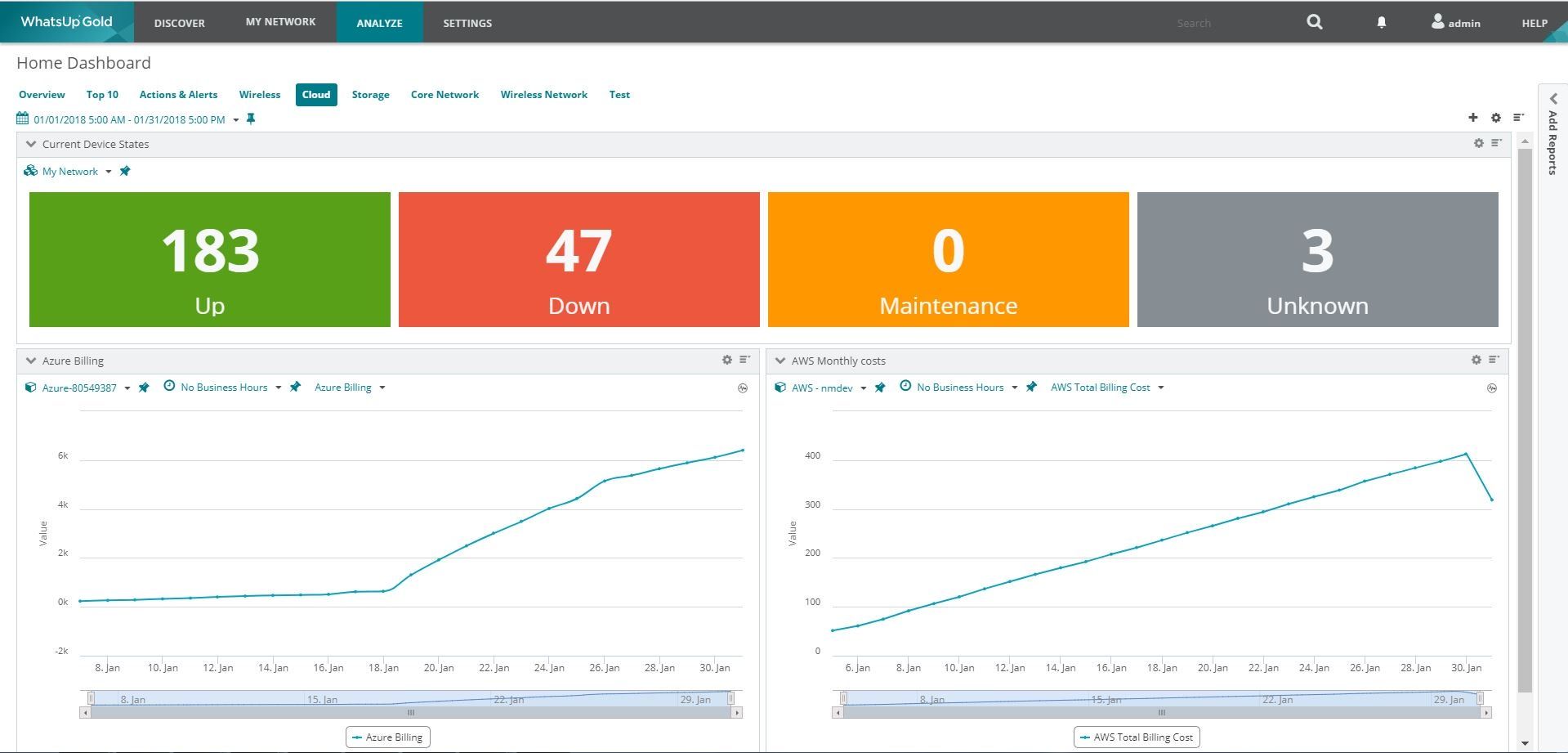 With the new billing monitor you can monitor trends for cost vs. usage, keep track of budgets set up for hybrid cloud environments, and even set alerts for exceeding a spend rate, I can see how my trends for usage look, and I can keep track of budgets set up for hybrid cloud environments. And setting alerts, thresholds, or notifications for the cost monitor works just like any other monitor.
Monitor Hybrid Cloud Deployments
You have to support an IT environment that spans a mix of on-premises and cloud computing deployments. But too often in enterprise deployments, admins are forced to work with multiple, disparate monitoring tools to get visibility into their environment. WhatsUp Gold allows you to monitor it all—from data center to cloud—with a single interface.
Monitor cloud performance and status for all your services and applications. Track and receive notifications for every aspect of your cloud implementation that AWS and Azure provide through their API, and generate a cloud dashboard that shows the up/down status of deployed machines. You can even track the performance of cloud-based applications like Outlook 365, as well as Cisco Meraki management cloud, and you can do it all from the same system you use to monitor your on-premises deployments.
You can learn more about the latest version of WhatsUp Gold here, or check it out for yourself by downloading a free trial, available here.
Tags