We're excited to announce WhatsUp Gold 2018 (WUG 2018)! The new version brings cloud performance monitoring and the ability to track virtual resource usage. Now you always know how much you're spending on cloud services such as Azure and AWS.
If you are a network admin in a small to medium sized business, chances are you've heard about WhatsUp Gold, or WUG as the initiated call it. You may even have fond memories of using it years ago. If you've never heard of WhatsUp Gold, then even more reason to check out the new version of WhatsUp Gold 2018.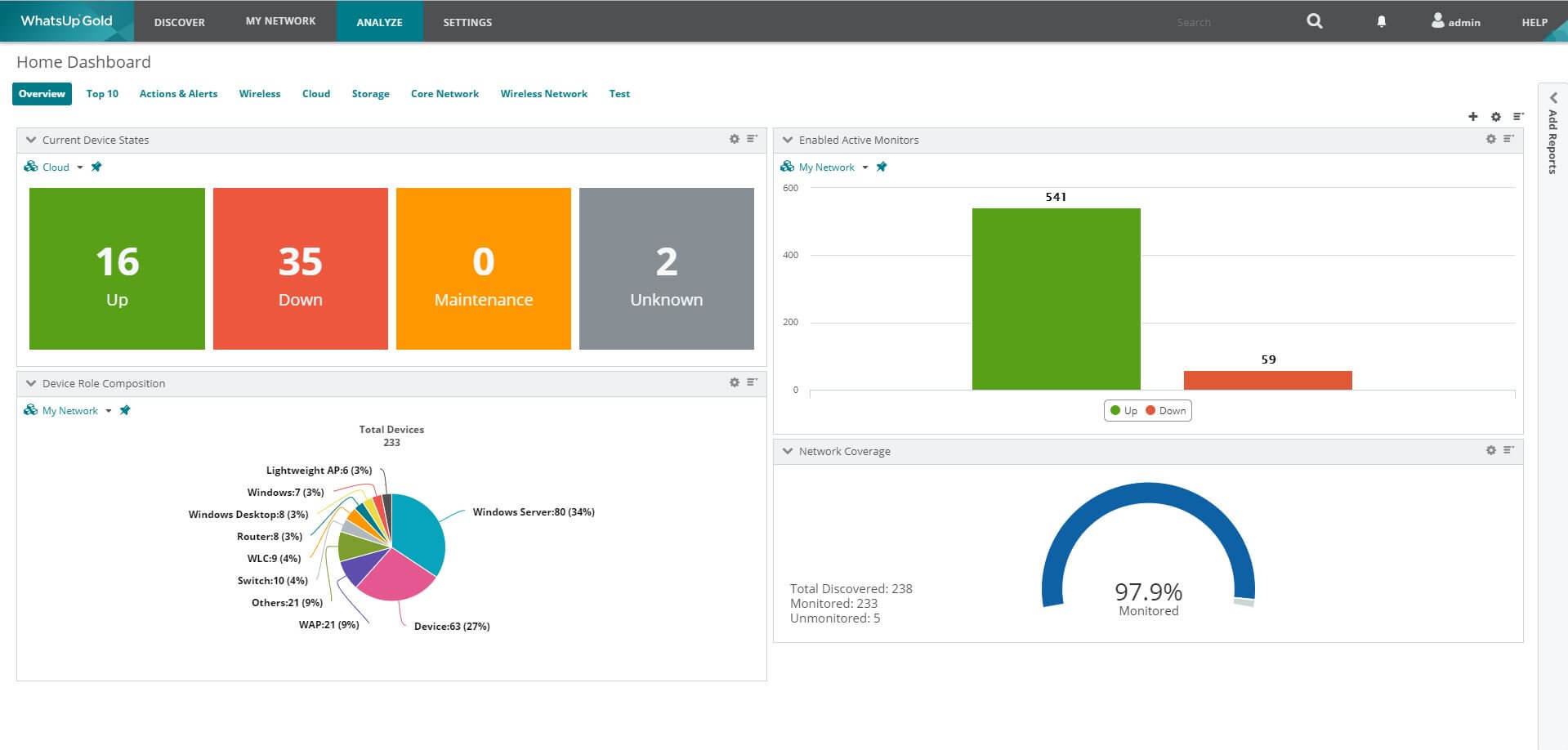 Just a few new features included in the latest release are:
Cloud performance monitoring
Virtual resource consumption
Device auto-discovery
Slack integration
Our engineering team put a lot of work into creating a sleek and modern interface. The result is a responsive and intuitive UI that has all the features you want like right click sorts, filters, drill-downs, drag-and-drop dashboards, and report creation. But that is expected from a top of the line network monitoring tool. The introduction of billing tracking for cloud resources sets WhatsUp Gold apart from the pack. Cloud services such as Azure and AWS cost a lot of money and they don't make it easy to know how much your business spends on a daily basis. The point is that it adds up and WhatsUp Gold 2018 makes tracking this much easier.
Below you can see why WUG 2018 is unique.
Deploy and Operate Easily
Let's face it. We all have personal devices and we don't want to be spending more money on data, so connecting to your business network while in the office is instant cost savings as opposed to using mobile data. But it's an IT nightmare. BYOD is nothing new, but how do you know what's transpiring on the network? Auto-discovery of devices is a necessity in this day and age.
Automated L2/L3 discovery capabilities are here. WhatsUp Gold automatically applies device roles for popular network devices and equipment and includes default monitoring thresholds so you get alerts that you need about BYOD out of the box. That makes it pretty simple for someone making the switch from products like SolarWinds or Paessler.
Everything on your network is placed on a unique interactive map so you can see your entire IT environment in context. The map quickly responds to filter views (by device type or state) and provide overlays showing wireless networks, virtual environments, cloud resources, network dependencies or interface utilization.
Hybrid Cloud Monitoring
There is no need to learn different products for different insights into your networked environment. Intertwining multiple products to solve a single issue is burdensome and wasteful. With WhatsUp Gold 2018, you use the single console to proactively monitor network devices, network traffic, apps, services, and we know our customers will especially love to know that you can now monitor Cisco Meraki!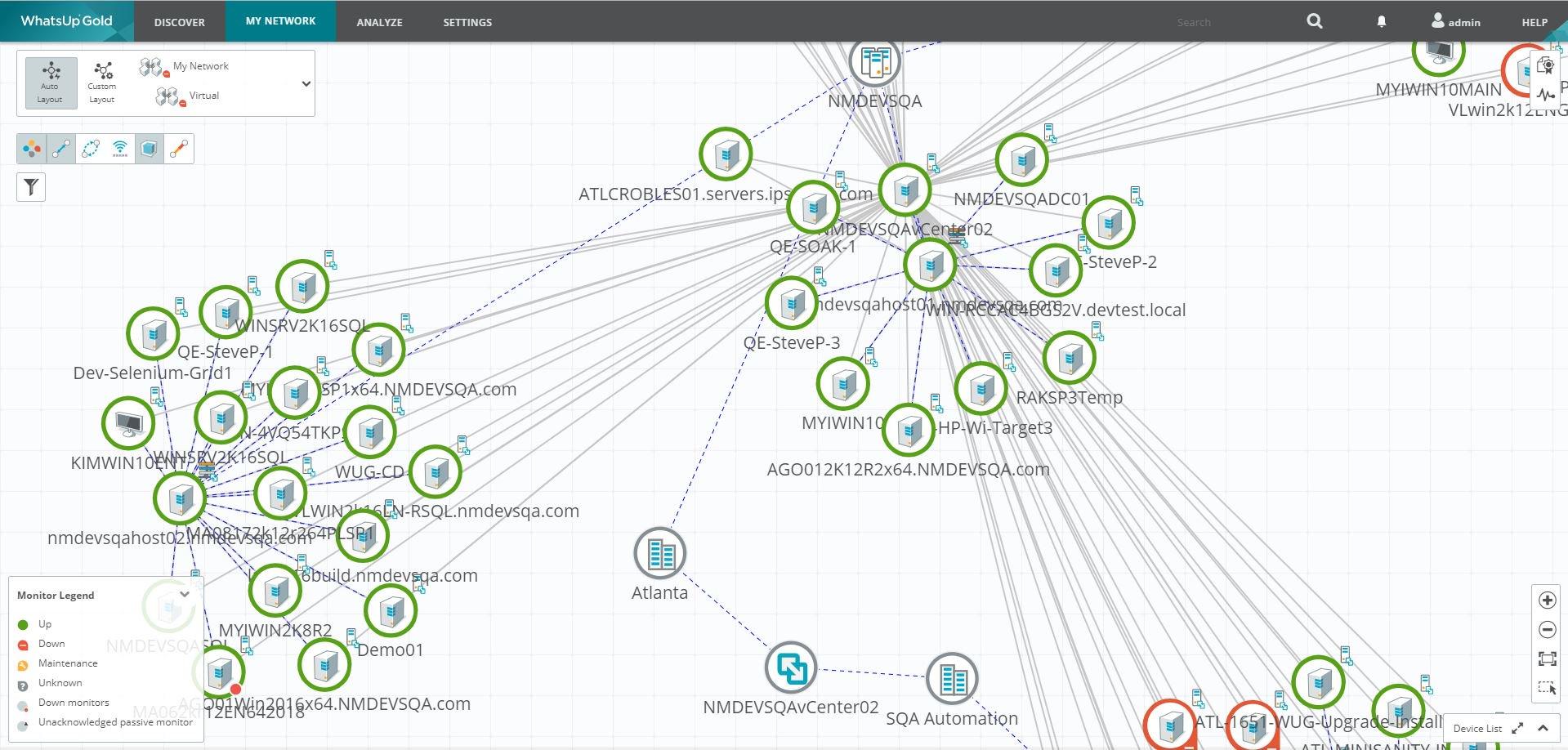 With most business networks utilizing a hybrid cloud environment, WhatsUp Gold 2018 has all those endpoints on-premise and in the cloud monitored. As for cloud performance monitoring, WhatsUp Gold now shows AWS and Azure availability and performance.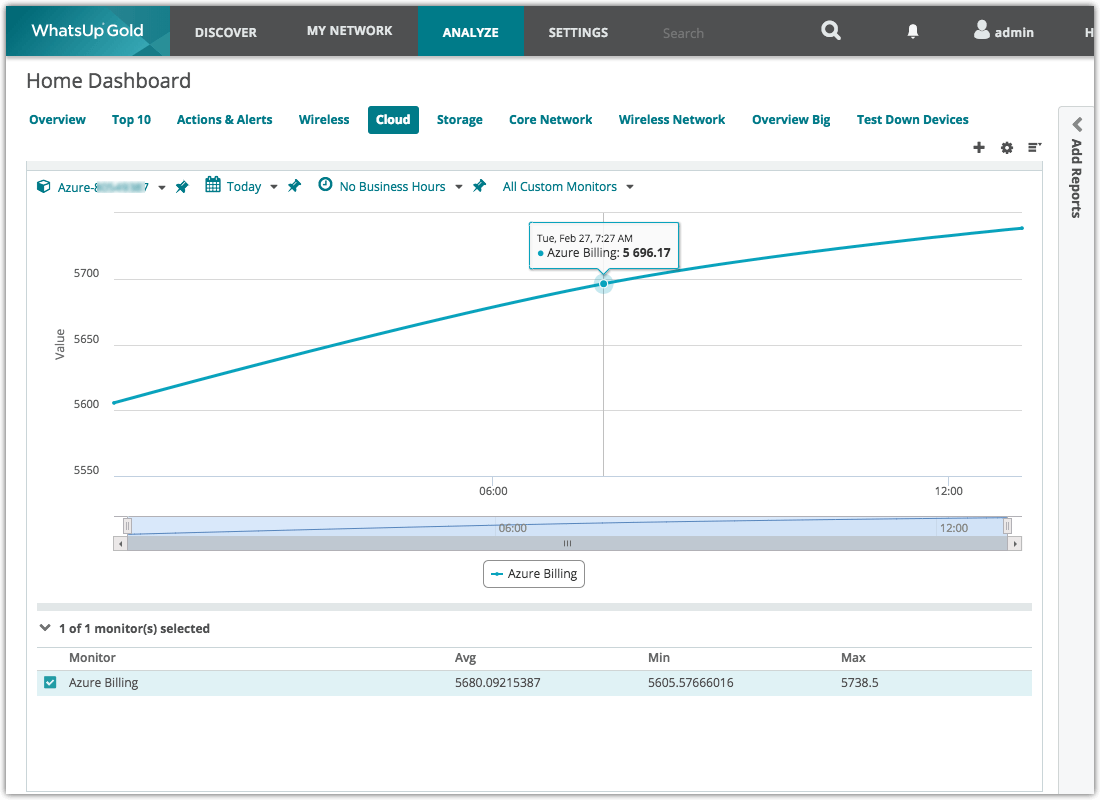 Specifically on cloud monitoring, one of the most asked for features from our customers was the ability to monitor the resources your business consumes in the cloud. If you've used AWS or Azure you probably know that it's easy to lose track of the amount of resources you consume in the cloud making budgeting an endless nightmare.
WUG Slack Integration
Slack has emerged as one of the quickest to implement, cheapest, and scalable team communication solutions out there and even borderlines as a project management solution. Slack is an obvious disrupter in the IT space, so it was a no-brainer that we added Slack support to WhatsUp Gold 2018.
With the new WUG you will be able to receive alerts and notifications about your network within Slack, much like email. This allows your team to quickly resolve issues by always having complete visibility.
Get More At-a-Glance Visibility
We've provided the tools you need to setup the dashboards, notifications and reports that best fit your requirements and unique business environment. So give it a shot. We provide free trials with full technical support to prepare your team with WhatsUp Gold 2018.
There is nothing to lose! Tens of thousands of IT pros, just like you, love WhatsUp Gold. You can see why for yourself by downloading a trial.
Tags