When was the last time someone told you your job just got easier? Once in a blue moon? A month of Sundays? Forever and a day?
Well, we're here to change that. Progress WhatsUp Gold release 2022.1, available as of October 12, 2022, offers users even more built-in infrastructure discovery and monitoring power, available for immediate use. It's now even easier for you to:
Monitor the health of server hardware
Discover thousands of new systems to monitor
Create device roles and sub roles
Bulk change roles and performance monitor options
And more
It's been a banner year for WhatsUp Gold users. Packed with enhancements, WhatsUp Gold 2022.1 layers onto the powerful improvements already released in 2022.0 last March. This latest version is ideal for organizations that want to deploy their IT infrastructure monitoring solution fast and with far less customization.
First, How Do We Decide What's Important?
Software development is always a delicate balance between what you can accomplish in the time you have with the resources at hand. Smart technology companies establish core principles that help them prioritize their long list of customer requests, enhancements and new features.
For every new version of WhatsUp Gold, we concentrate our efforts on three core values of IT infrastructure monitoring: proactive monitoring, actionable insights and ease of use. Those are the keys to why WhatsUp Gold endures as one of the most popular commercial monitoring products on the market. Additionally, we focus on security, integrability and extensibility—areas that help our customers as they scale and build out a hybrid cloud environment.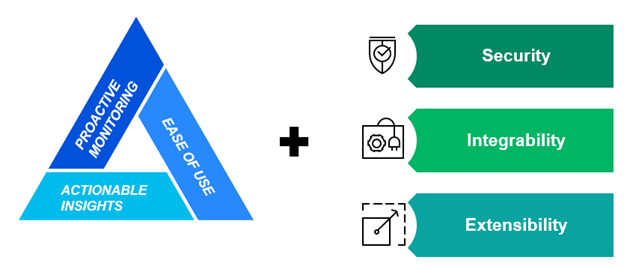 For the 2022.1 release, our product team addressed ALL of these values and focus areas. Let's break it down.
Improved Out-of-the-Box Discovery
Networks continue to grow in complexity, and vendors release a constant stream of new devices and systems. The challenge for those responsible for IT infrastructure monitoring is to stay ahead of these developments. Two new features that will deliver immediate results to WhatsUp Gold users involve enhanced discovery. These are:
Out-of-the-Box Server Hardware Status Monitoring: You now have out-of-the-box hardware status monitoring functionality that immediately notifies you of problems with hardware health, such as physical disk failure.
Addition of the UCD-SNMP-MIB for Device Discovery: You can now discover and gather performance metrics from a wider range of devices, including Progress Kemp LoadMaster as well as many other virtual appliances.
We now support the standards utilized by major device vendors such as Cisco, HP, Dell, Lenovo, Supermicro, Fujitsu and IBM. These improvements can eliminate hours or days of manual development and customization. Plus, the more devices you can monitor, the better you can respond to performance issues.
For Device Roles, Sharing Is Caring
Another important addition to this release is the capability to import and export device roles and sub roles. That's right: You can now import device roles, greatly simplifying the ability to add new device support. This will dramatically speed up your ability to define and support new devices.
Where can you find these importable lists? Simply visit our new device role code share repository in our online community (available to anyone with WhatsUp Gold) and see what's available. This repository is the place where you can discuss, share and download device roles for importing. You can also contribute to the community with your own exported roles.
Continued Focus on Security, Ease of Use & Integrability
As with all recent releases, WhatsUp Gold 2022.1 includes many additional enhancements and requested improvements, such as OAuth2 authentication for emails, customer-requested bulk change options, automated configuration for OpenID and smart monitor grouping.
Network security continues to be a focus for all sizes of organizations and our developers are committed to reducing the attack surface of our application. (If you missed our latest Best Practices webinar, "Securing the Network Monitoring System," you can now view it on-demand.)
And as for ease of use, we have also published a free on-demand training course for all WhatsUp Gold Administrators. "Get Started with WhatsUp Gold Administration" is now available on the Progress Education Community. This course provides a foundation for network administrators and IT operations professionals to be able to configure, discover, and manage their networks. Please let your colleagues know about this valuable new resource.
The Many Ways to Learn More About 2022.1
You can learn more about all these improvements by visiting our What's New page. For details on all new features, please view the WhatsUp Gold 2022.1 Release Notes.
You can also join us for a live webinar, "What's New with WhatsUp Gold," that will cover these new features and answer specific questions from attendees. We are presenting the same webinar at two different times on October 26, 2022:
Or feel free to try WhatsUp Gold yourself—you can download a free trial version that includes all features and no restrictions for a limited time.
Tags