One of the greatest challenges for an IT team is visibility. How can you prove the value of your IT team's accomplishments when no one can see what – or how well – you're doing?
Progress WhatsUp Gold release 2023.0, available as of June 21, 2023, is set to change that. This release includes several exciting updates meant to provide better data access to all. These include:
Scheduled report improvements
A configurable NOC Viewer
Configuration Management enhancements
And more
Packed with enhancements and user interface improvements, WhatsUp Gold 2023.0 adds nicely to the powerful discovery and sharing features we released in 2022.1. This latest version is ideal for organizations that want to allow wider access to their network data and increase the engagement level of all users, from network administrators to business owners to non-technical staff.
How Do We Decide What's in A New Release?
For every new version of WhatsUp Gold, we concentrate on features that align with three core values: proactive monitoring, actionable insights and ease of use. Those are the keys to why WhatsUp Gold continues to win awards and recognition. Additionally, we focus on security, integrability and extensibility — areas that help our customers as they scale and build out a hybrid cloud environment.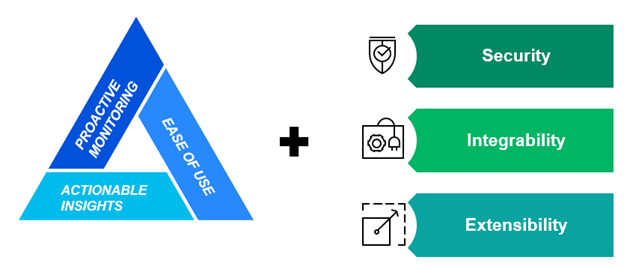 And importantly, we use the requests of you, our customers, to help guide the priority we assign to enhancements. In release 2023.0, we selected the most popular requests from our online community and the members of our Customer Validation Program. Let's see what those are.
Scheduled Reports that Everyone Can Use
One popular request has been to improve the configurability of our scheduled reports so that everyone, from system administrators to non-technical managers, can receive custom reports when needed and in the format they prefer. All your stakeholders can receive scheduled email reports with immediate, viewer-friendly access to the latest WhatsUp Gold data. As of 2023.0, you can also schedule report exports to a designated directory in selected format.
You Can't Knock Our New Configurable NOC Viewer
With this new release, WhatsUp Gold now includes a viewing tool created specifically for Network Operation Centers (NOCs). The NOC Viewer automatically cycles through any number of dashboard views, maximizes the real estate of the display and refreshes the data with each cycle. The NOC Viewer improves alignment and collaboration, provides visibility to management, and alerts users to any issues on which IT is currently working.
Adding Power to the Configuration Management Add-on
Network system configuration monitoring has never been easier. With WhatsUp Gold 2023.0, we have greatly improved the performance, security and memory handling of our Configuration Management add-on. If you haven't yet adopted this add-on, now is the time to see all it can accomplish for your organization.
Current and new users will love the updated interface and expanded capabilities. You can now add devices to your Configuration Management (CM) task in line with the technical limitations documented for the product.
A Continued Focus on Security, Ease of Use & Integrability
As with all recent releases, WhatsUp Gold 2023.0 includes many additional requested enhancements, interface updates and security improvements that greatly reduce the potential attack surface of the application. These include Windows Authentication for SQL Server, SNMP v3 Authentication Protocol, Open ID improvements and user interface updates.
The Many Ways to Learn More About 2023.0
Release 2023.0 promises to be our best yet, especially for improving your ability to share network data in a timely way to anyone in the business. You can learn more about these improvements – and how to upgrade – by visiting our What's New page. For details on all new features, please view the WhatsUp Gold 2023.0 Release Notes.
You can also join us for a live webinar, "What's New with WhatsUp Gold," that will cover these new features and answer specific questions from attendees. We are presenting the same webinar at two different times on July 11, 2023:
Or feel free to try WhatsUp Gold yourself – you can download a free trial version that includes all features and no restrictions for a limited time.
Tags