Popular computer magazine PC Pro added WhatsUp Gold to its "A List" of products for advanced features and ease and affordability of licensing, awarding it five stars in its review.
WhatsUp Gold, first launched in 1996, has been growing in features and refinements for the past 27 years. More recently, the IT infrastructure monitoring (ITIM) solution gained capabilities in another way. "Progress enhanced its product portfolio by acquiring the Loadmaster and Flowmon appliances from Kemp Technologies, and WUG—can discover and monitor them. Flowmon traffic data, for example, can be fed directly into WUG—and displayed in its analysis dashboards," PC Pro argued in its WhatsUp Gold review.
With all those years of customer feedback under its belt, WhatsUp Gold has grown more intuitive and complete, as the magazine discovered. "The WUG web console is easy to navigate, with all functions grouped under four main options in its upper menu ribbon. We could easily create custom network discoveries, pull up network topology views, swap to a network map and design custom analysis dashboards," PC Pro reviewers enthused.
ITIM and network monitoring are all about visibility—the kind of visibility that offers an overview of network health and performance—and at the same time can drill down to discover the root causes of network and device issues. Here, WhatsUp Gold also shines. "Deeper insights into device status are provided by the Analyze tab, with its home view displaying a real-time graphical network overview along with predefined tabs showing the top ten busiest devices, actions, critical errors and storage status. All devices are assigned colored icons so you can quickly see their status, and it's simple to add custom dashboards by setting the number of columns and choosing which metrics to display in each one," the UK-based magazine wrote, finding WhatsUp Gold, "Easy to deploy, it presents an impressive set of network monitoring tools in a well-designed console, and tight integration with the LoadMaster and Flowmon appliances will appeal to businesses invested in these products."
Ease of Licensing
Licensing IT infrastructure monitoring (ITIM) can be complex and costly. Not so with WhatsUp Gold. "Progress Software neatly avoids any confusion over licensing, with prices for its WhatsUp Gold (WUG), with the premium edition being based only on the number of monitored devices. Unlike sensor- or element-based products, you won't need to worry about the number of CPUs in a host or how many ports your switches have, and you can choose between yearly subscriptions," the magazine noted.
Reviewers Are Fine, But What Do Customers Say? Gartner Peer Insights Weighs In
Gartner Peer Insights allows actual customers to post reviews of products—in this case IT Infrastructure Monitoring Tools—where WhatsUp Gold is a key player.
A review posted in early 2022 shows the breadth of the monitoring solution. Here's what one WhatsUp Gold customer told Gartner, "WhatsUp Gold is an excellent system out there that intelligently monitors bandwidth, network devices, performance, cloud services, and keeps track of all network traffic. WhatsUp Gold delivers basic and advanced monitoring and management capabilities for IT settings, allowing us to save time while keeping our IT infrastructure working smoothly. WhatsUp Gold definitely shines when it comes to alarms. They're all entirely configurable, and once set up to our liking, they run like a charm," the reviewer wrote.   
WhatsUp Gold Rocks Info-Tech SoftwareReviews Report
WhatsUp Gold is a Champion in Info-Tech's SoftwareReviews Report. "WhatsUp Gold ranked first or second in likeliness to recommend, plan to renew, satisfaction that cost is fair relative to value, ease of customization, vendor support, ease of implementation, operational dashboard, fault management, and network reporting," the Info-Tech Report found.
The graphic below shows WhatsUp Gold right at the top!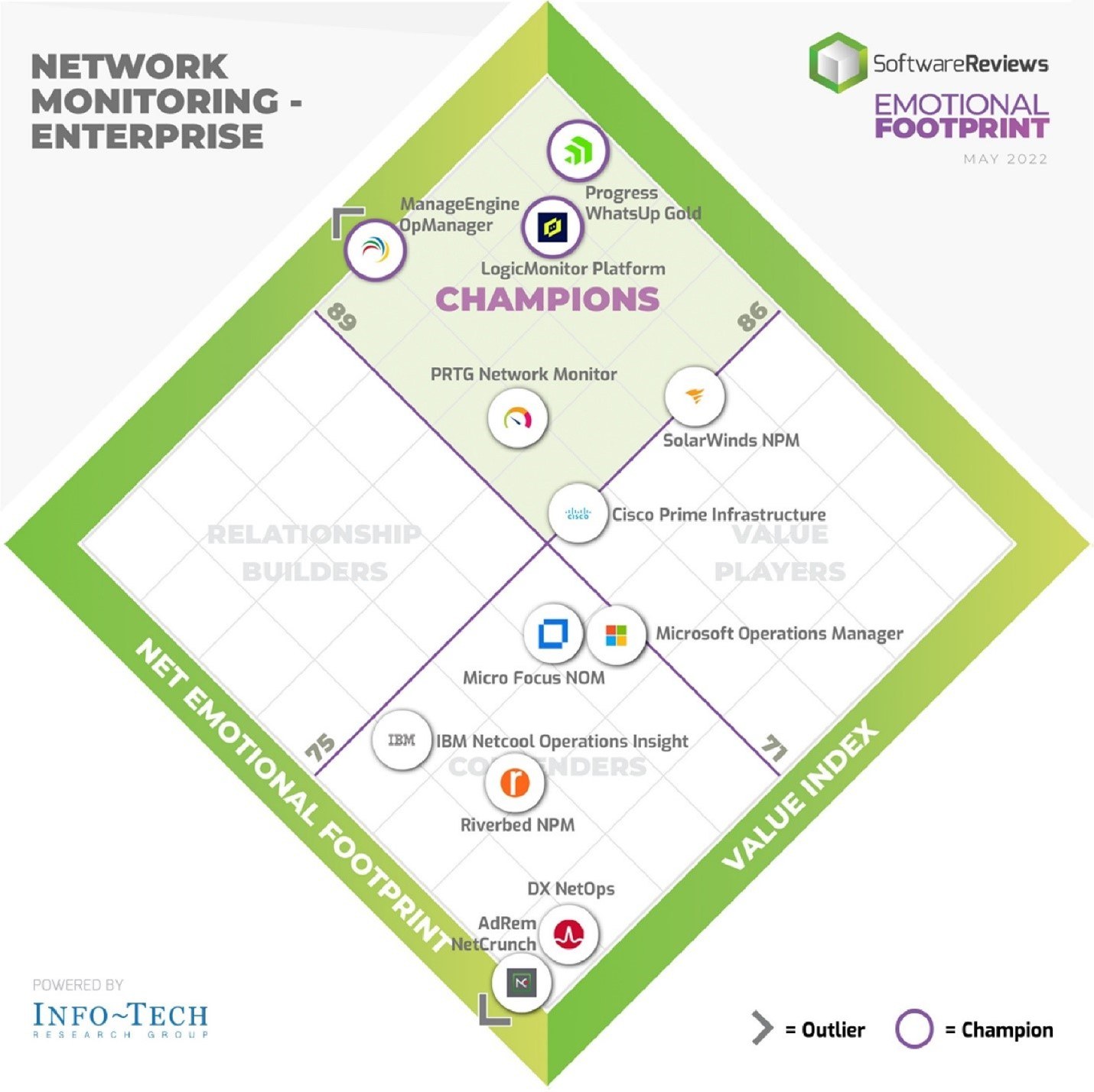 WhatsUp Gold Takes Another Infrastructure Monitoring Prize  
Product review and download website PC & Network Downloads tackled infrastructure monitoring, offering advice on what to look for and buy. "As a network increases in size and importance, so does the need to ensure the network runs (and keeps running) effectively. To achieve this, it is necessary not only to know what devices make up the IT infrastructure (inventory) but also to keep an eye on those devices in terms of availability, health status, and performance," argued PC & Network Downloads in its Best Infrastructure Monitoring Tools and Software report.
"While it is possible to manually monitor IT infrastructure, especially on a small network, it can become quite time-consuming and even outrightly impossible in most cases. Because of this, several tools are available to help with IT infrastructure monitoring and these tools will include features like:  
A way to add devices/services to be monitored (e.g., text-based, CLI, GUI)  
Availability, performance monitoring, and/or health status  
Alerting to notify the appropriate persons when something goes wrong (or is about to go wrong)—SMS, Email, Etc.  
Reporting to provide details about what has happened/is happening."  
PC & Network Downloads chose WhatsUp Gold as one of the best Infrastructure Monitoring tools in a recent report.  
In particular, the website lauded WhatsUp Gold and how it:  
"Uses simple visualizations to help provide at-a-glance insights  
Supports modular pricing, allowing companies to pay only for features they intend to use  
Can monitor LANs, WANs, and cloud-based applications such as container environments"  
Customers Get the Last Word
Here's what one customer had to say.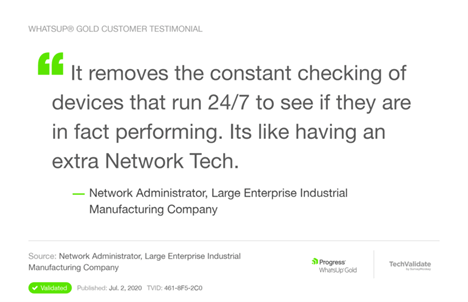 Check it Out for Yourself
See what everyone is talking about by downloading a free WhatsUp Gold Trial, or read more WhatsUp Gold Testimonials.
Tags