It's happened to everyone: You log on to an important Voice over IP (VoIP) call or meeting only to have your conversation stifled when the audio becomes jittery, with words and sentences jumbled and mixed around, or sometimes missing completely, as though someone has put your conversation on shuffle. Users and laymen frequently look to their microphone or headset as the culprit, but, as you're probably aware, more often than not, this jumbling is the result of VoIP jitter.

Like anything else on the internet, VoIP delivers your conversation through data packets, and if there's a bad connection, sometimes these packages can be delivered out of order or can be dropped completely, in a phenomenon known as packet loss. When data packets are delivered out of order, so is audio, and voila—VoIP jitter.
Fortunately, VoIP jitter is easy to diagnose, and so is its cause. The most frequent and obvious cause of VoIP jitter is simple: insufficient bandwidth. With that knowledge—and with the right network monitoring tools—it's easy to set up unified monitoring to track and ensure VoIP performance so that you know there's an issue before any meetings are ruined.

In this post, we'll discuss how WhatsUp Gold (WUG) can help you monitor VoIP performance, and demonstrate how to set up performance monitoring for VoIP devices.
An Overview of WUG and VoIP Monitoring
With WUG, you can assess and monitor acceptable performance levels for VoIP call quality, collect data and reports on the quality of service (QoS) levels of your network, access information generated by Cisco IP SLA-enabled devices to monitor performance parameters such as jitter, latency, and packet loss, and display MOS (Mean Opinion Score) and CPIF (Capacity Planning Impairment Factor), all with an easy-to-use plug-in. Six performance monitors measure jitter, latency, and packet loss from both source to destination and from destination to source. Two additional performance monitors provide MOS and ICPIF scoring information.

A configuration wizard minimizes the setup and configuration time required to identify IP SLA sources and destinations. WhatsUp Gold provides network managers with additional VoIP specific data to supplement existing performance metrics for bandwidth and interface utilization.
Performance Monitoring for VoIP Devices
To get started, you're going to launch the VoIP configuration Utility from the WhatsUp Gold Admin Console (Windows Start Menu> WhatsUp Gold> WhatsUp Gold Admin Console). To do this, navigate to the Tools menu, then select the VoIP Configuration Utility. This is a utility that is used specifically for VoIP monitoring.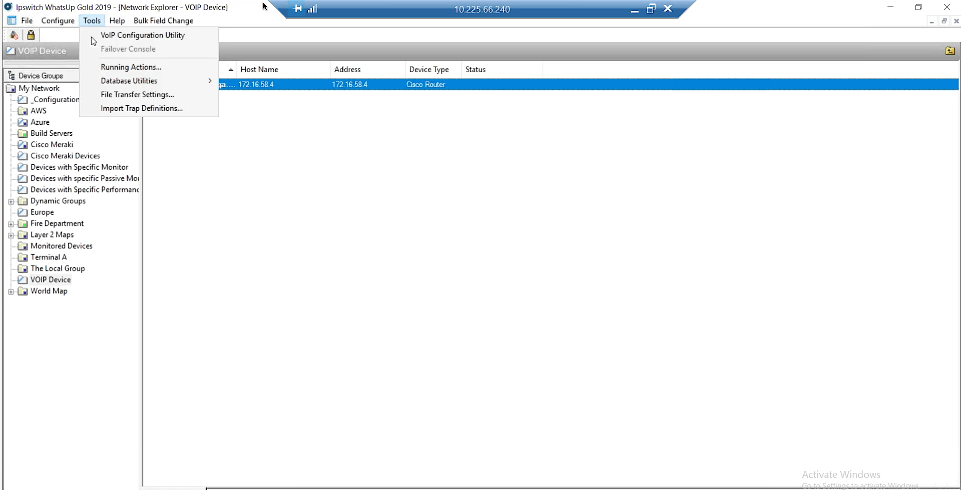 Upon launching the VoIP Configuration Utility, you will be met with a welcome screen. Click Next, and the utility will return a list of devices in WhatsUp Gold with monitoring enabled. Now you can select the device or devices that you want to monitor for VoIP statistics. If the device you want to monitor is not on the list, check out our troubleshooting tips in the full tutorial on our docs page. In this case, I have a device called QA2901 that I want to monitor, so I will select that, and click next.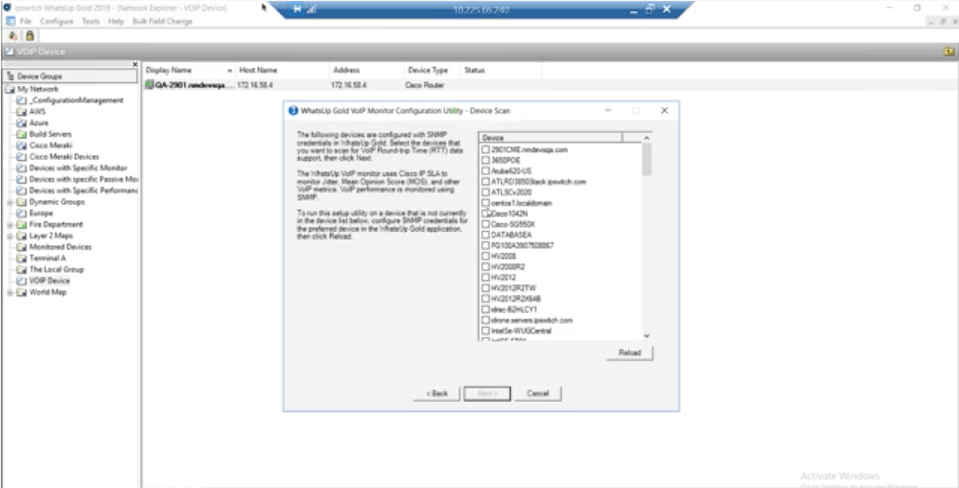 Once you click next, WUG is going to use SNMP to determine if the device is VoIP-ready, and if it is, will display a Performance Monitors Setup Screen, with a summary of current statistics.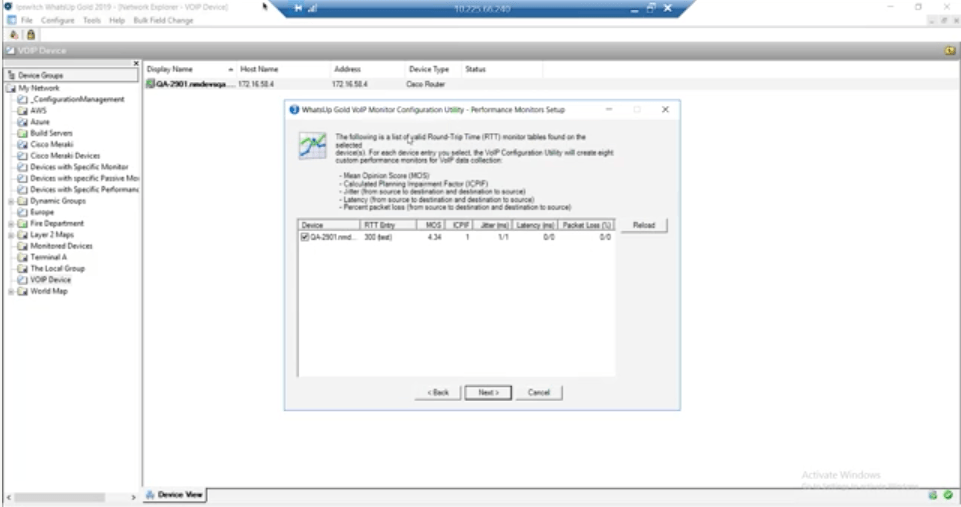 From here, Select the Round Trip Time tables representing end-stations on your network that you want to capture VoIP statistics for and then click on Next. Now, Filter devices you want performance monitoring on and then click on Next. Then select the devices you want to measure Mean Opinion Score from and then click on Next. The WhatsUp Gold VoIP Monitor Configuration Summary screen will now display. Finally, we should make sure that the log messages in the summary screen indicate that our monitors were added successfully. If they were, click next and then finish to exit the utility.

Congrats! You just set up VoIP performance monitors with WUG! Now let's make sure they're working correctly. To make sure you're monitoring VoIP IP SLA data, navigate to your device on your network map (or in the list of devices), select the device, and then click Device Properties. You should now see your VoIP monitor

To view report data, you can open the Analyze menu, then select Performance> Custom Monitors Dashboard. Happy monitoring!
View All of The ABCs of Infrastructure Monitoring
Looking to start on the basics of IT infrastructure monitoring? Our alphabetized index is an excellent place to begin or extend your education. View all of our current topics.
Tags