In a year full of uncertainty, change, and fear of what's to come, WhatsUp Gold was still a rock of stability and reliability. We're honored that it gained its share of recognition from its customers and the press.
PCMag stated that WhatsUp Gold "strikes an excellent balance between visual pizzazz and the ability to track common network devices" and was recognized by NetworkComputing UK as standing out because of WhatsUp Gold's 'extreme longevity' and ease of use. PC Pro Magazine UK gave WhatsUp Gold 4 out of 5 stars in its November edition, describing WhatsUp Gold as "a joy." German-based IP Insider awarded WhatsUp Gold 'Silver' in its Network Monitoring category for the fifth straight year in a row!
Software Reviews, a customer review site using real customer feedback, shows WhatsUp Gold a leader in its bi-annual data quadrant ranking the software 2nd in its network monitoring category out of over 16 total vendors and 837 total reviews.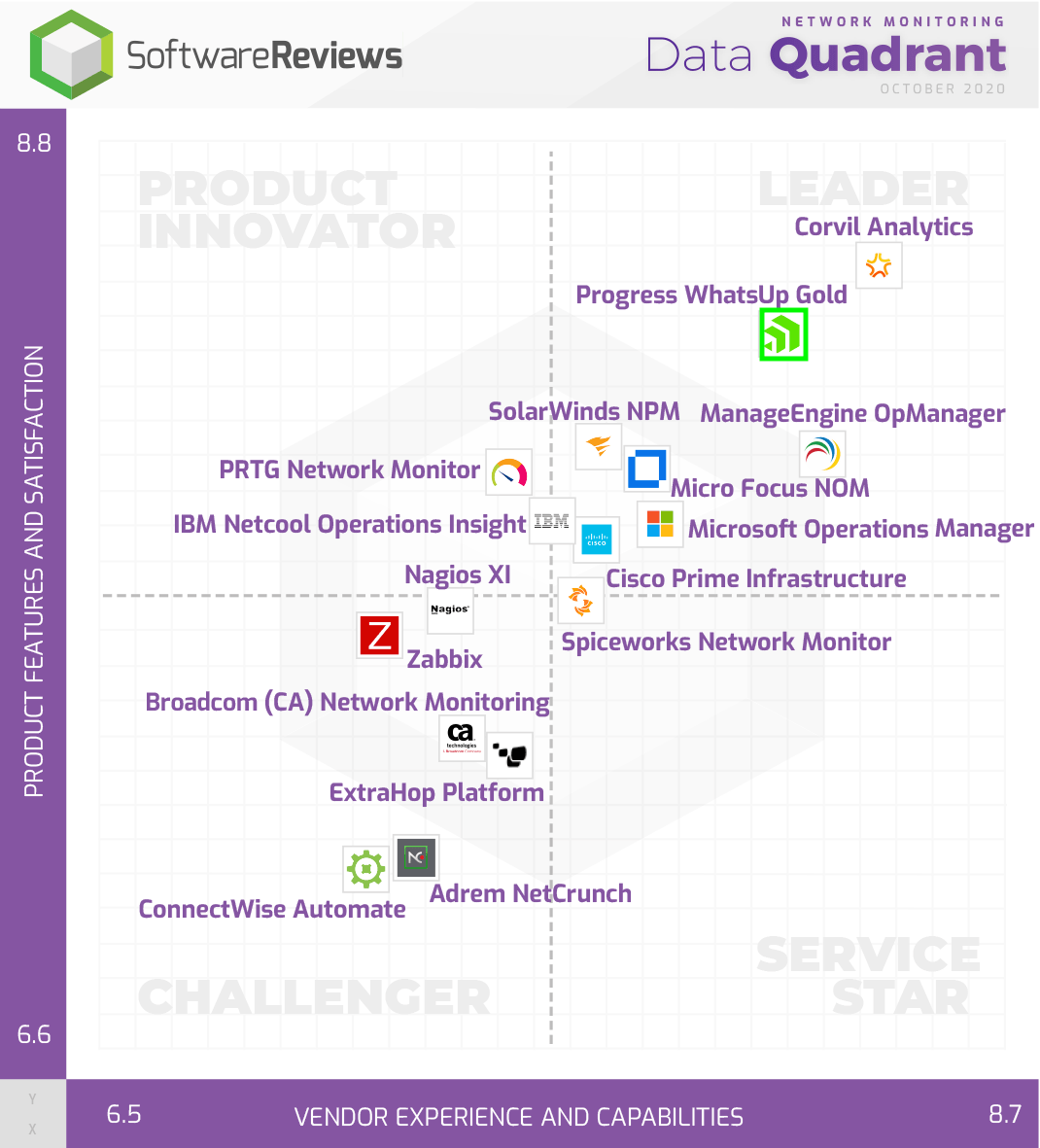 And, in a recent survey done with WhatsUp Gold customers using TechValidate, 87% of organizations rated WhatsUp Gold's value returned for the price as better than other vendors and (or) competitors they've used or evaluated. Lastly, G2 named WhatsUp Gold a Leader in both their Fall and Winter reports for 2020/2021.

For over 20-years, WhatsUp Gold has been a 'go-to' and favorite product of Network and System admins alike. For example, 87% of surveyed Network and System admins are likely to recommend WhatsUp Gold to a friend or a colleague. Why? Though there are many networking monitoring choices out there, Network Computing UK highlights it as an ideal choice because of "its extreme longevity, ease of use, and extensive troubleshooting features. It has also benefited from a solid development program, and the latest WUG 2020 adds even more support tools including pulsing device icons for eye-catching alerts, improved reporting, and enhanced scalability."

Let's dive into the reviews!
In July 2020, PC Mag gave their Editors' Choice award to WhatsUp Gold. They indicate that "WhatsUp Gold is a beautiful, elegant and highly functional product (with) the best monitoring capabilities we saw in this roundup...a great-looking and very well-featured network monitoring tool."

WhatsUp Gold is a long-standing network monitoring software with a reputation among the IT community of Network and System Admins for being easy to use and easy to implement. PC Mag identified WhatsUp Gold 2020 as "having greatly matured and now delivers the best monitoring capabilities."

WhatsUp Gold is known for its simple, easy to install, and easy to operate interface, which for what it's worth, makes it the most straightforward network monitoring software on the market.

Don't just take our word for it – see for yourself.

Likewise, in October 2020, Network Computing World UK wrote that the "WhatsUp Gold 2020 delivers a remarkable range of network monitoring tools and its flexible licensing plans make it affordable for SMBs and enterprises alike. The well-designed web console is capable of delivering a wealth of information about the network and all devices allowing support staff to identify, troubleshoot, and remedy problems with minimum downtime quickly." WhatsUp Gold takes the gold with Network Computing World UK with its wealth of features and ease of use.

What do these two reviews have in common? They both describe WhatsUp Gold as being mature and user-friendly. Check out the Network Computing UK review.

WhatsUp Gold also received attention from Dave Mitchell of PC Pro Magazine. Mitchell mentions, "... WhatsUp Gold remains a worthy network monitoring solution, with a fine track record going back to the early 1990s. This 2020 version brings innovations including pulsing device icons for eye-catching alerts, facilities for uploading your own icons, and improved reporting." In this same review, Mitchell says that WhatsUp Gold is easy to use and allows you to gain valuable insights on what is happening on your network all in one place.
Hear what our customers are saying

Info-Tech Research Group, which is part of the Software Reviews family, Software Reviews collect and analyze the most detailed reviews on enterprise software from real customers to provide an unprecedented view into products and vendors before you buy. WhatsUp Gold ranks 2nd overall based on 837 total reviews across 16 vendors and ranked 1st or 2nd in the following categories:



Ease of Implementation

Ease of IT Administration

Ease of Customization

Usability and Intuitiveness

Quality of Features

Plan to Renew

Operational Dashboard

Network Compliance Management

Network Reporting

Fault Management

Likeliness to Recommend

Business Value

Breadth of Features

Satisfaction that Cost is Fair Relative to Value

Network Performance Management

Network Quality of Services

Network Mapping

Network Configuration Management

WhatsUp Gold also took home the #Gold in this year's Data Quadrant report. According to our customers, WhatsUp Gold is reliable, saves users time (and money), and enables productivity, among many other 'buzz words.'

A Network and Systems Principal Consultant said, "Its simplicity. This tool is easy to use. Real-time data and graphs help us know more about our network stability." And a Technology Specialist stated, "The easy UI combined with a large number of options allows WhatsUp Gold to stand out from the pack."
If you value industry-leading software, best-in-class product features, and top-tier technical support, then WhatsUp Gold is the network monitoring solution for you.

Please look at our recent Info-Tech Report placement for more information.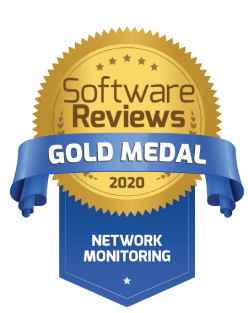 In a recent survey to our customers using TechValidate, we identified that WhatsUp Gold users not only LOVE WhatsUp Gold, but 89% of the surveyed organizations saw a return on their WhatsUp Gold investment within the first 12 months! When asked, "How would you describe the impact of WhatsUp Gold on your network/environment," a network administrator from a State & Local Government said: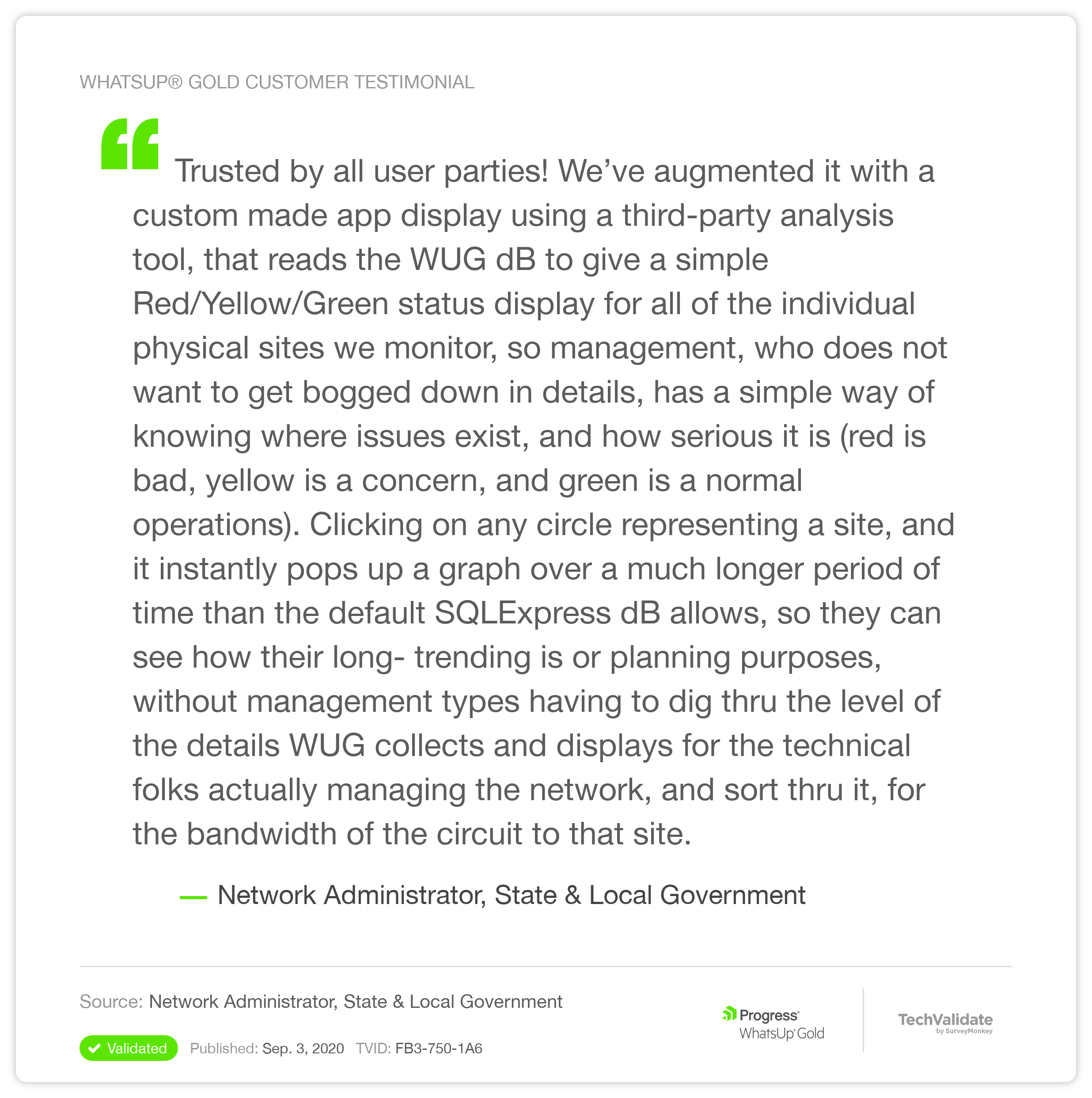 A commonality between answers to this question stemmed from the ease of use to "It removes the constant checking of devices that run 24/7 to see if they are, in fact, performing. It's like having an extra Network Tech," indicates a Network Administrator, Large Enterprise Industrial Manufacturing Company. See how much others love WhatsUp Gold!
In G2's Winter 2021 Network Management Software, WhatsUp Gold was ranked a leader, grabbing that 1st place position! WhatsUp Gold also was ranked a leader in the Mid-Market Grid for Network Monitoring, ranking 3rd overall.

Once again, G2 proves that WhatsUp Gold customers really #LOVE WUG – an Administrator in the Health, Wellness, and Fitness industry says, "I have been a user of WUG for over 10 years, and it's my go-to software for service, server, and application monitoring. Very robust feature set and an amazingly powerful amount of features. Great for both on-prem and cloud workloads!" Across the G2 platform, users love the easy set-up, functionality, and dependability that WhatsUp Gold offers.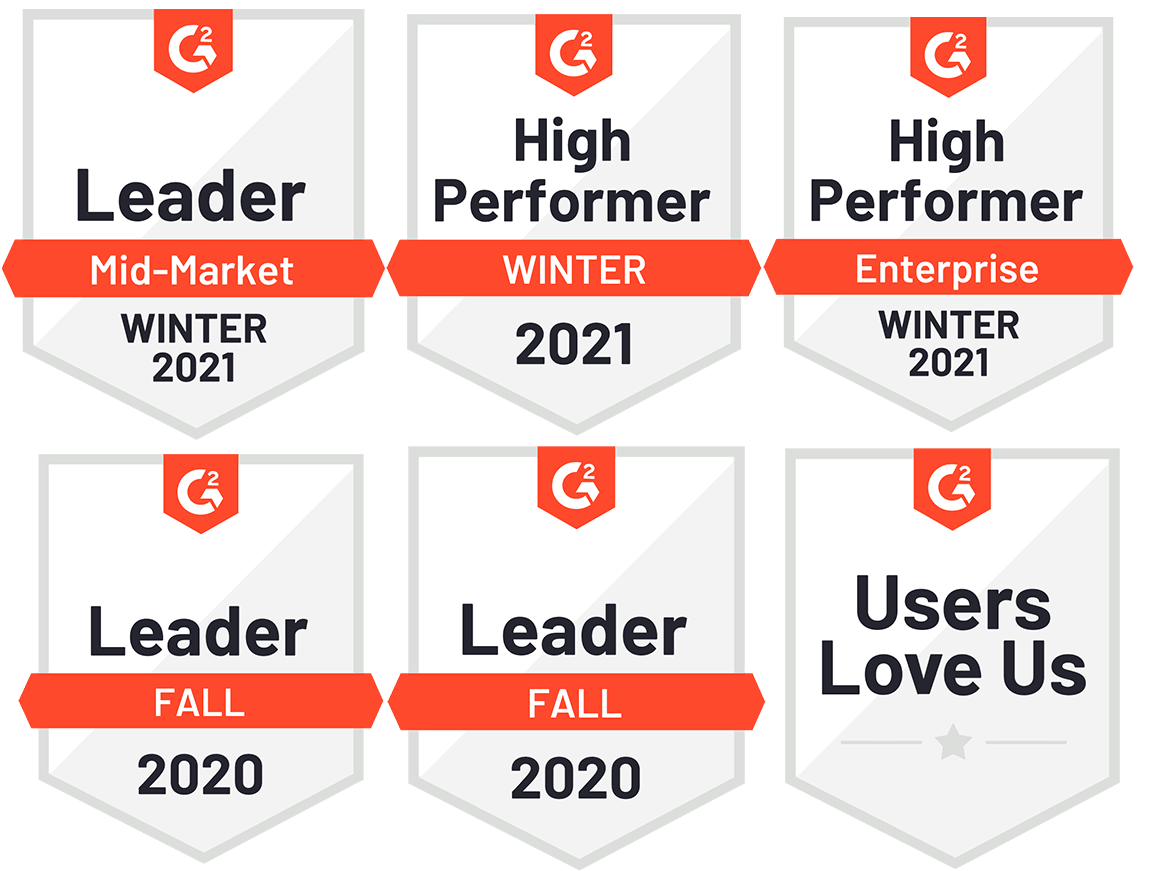 Want to hear more about what WhatsUp Gold can do? Visit our What's New Page or take it out for a spin with a 14-day, no-hassle free trial.
Tags