TriviumLindenhof is a Rotterdam-based healthcare organization that offers 24/7 crisis care, and to keep systems fully operational, its IT team's network monitoring processes need to offer 24/7 network uptime. The Dutch hospital network spans 70 locations and offers outpatient services and inpatient care for more than 2,500 children and adolescents each year.
Ensure 24/7 Uptime
The IT team recently reviewed their entire IT infrastructure to improve network availability. According to Monique Vink, ICT & Facility manager at TriviumLindenhof, "To be successful, uptime is crucial. In addition, the geographical dispersion of our locations means that we require proper IT management to avoid downtime. After reviewing our entire IT infrastructure, we decided to end all our service level agreements with third parties and take network monitoring in-house. We started by reviewing the most cost-effective and efficient way to monitor our data connections."
To strengthen their infrastructure, TriviumLindenhof specified two data connections per location: one VPN and an Internet connection for fallback situations.
Full Visibility
Monica and her team decided to implement Ipswitch WhatsUp Gold network monitoring software and kept close watch on those data connections. The helpdesk staff liked the product because it helped them to gain full visibility into what is happening on their network, servers and applications at any given time.
The IT team has a monitor on their wall with a geographical view of all the locations that are connected to its headquarters. If there is a problem with one of the connections, a red light appears.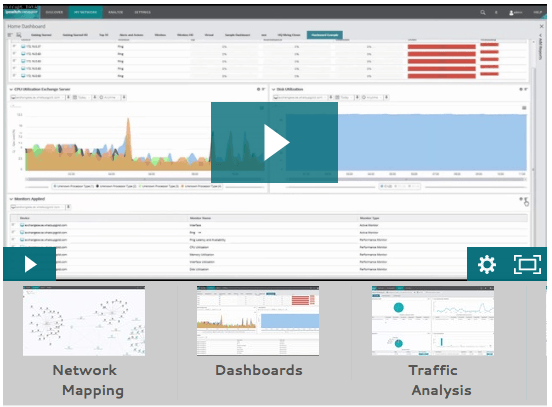 Monica reported, "When this happens we can instantly take action and contact one of our service providers who will solve the problem. This way, problems are solved before the employees at our connected locations are even aware of them."
Less Cost, More Transparency
By choosing WhatsUp Gold, TriviumLindenhof took network management in-house. This decision has saved them $90,000 annually as they no longer need expensive SLAs to avoid downtime. Another benefit of the tool is the transparency it offers.
Monique further explains: "With the old system, we couldn't see everything that took place on the network. If there was a problem, it took too long to solve it and this caused unnecessary downtime. WhatsUp Gold is really helping prevent this. At the end of every year we generate a report about our network availability. Last year with WhatsUp Gold in place we didn't have any network downtime and so far this year everything is going smoothly. It is clear that WhatsUp Gold has had a positive impact."
If you would like to see how WhatsUp Gold can provide full network visibility and performance monitoring, watch the demo.
During the demo you can learn how WhatsUp Gold can help you to:
Support new and emerging technology and applications
Isolate and resolve problems quickly and provide real-time alerts
Support low latency, high availability internet services
Tags